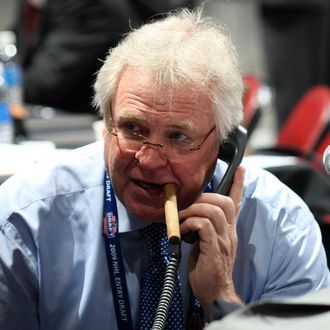 Rangers general manager Glen Sather appears to have been feeling pretty saucy yesterday. At the press conference formally announcing the Rangers' and Flyers' planned participation in this season's Winter Classic, Sather seized the attention to proclaim that his Rangers would win that game and, while he was at it, guaranteed a Stanley Cup. Oh, and the Yankees are going to win the World Series, too. This, according to that Post report, came on the heels of Flyers bigwigs (the press conference was in Philadelphia) gassing at length about their own club, so Sather's own bluster can be forgiven as a harmless, prideful retort (though his neglecting to include the Knicks hurt me just a little). Sather had more confidence to express, though, most notably regarding defenseman Marc Staal's head.
Staal, you'll recall (recaal?), suffered headaches throughout his summer workouts. Worried that the headaches might be post-concussion symptoms from a hit Staal sustained back in February, Rangers officials insisted that he sit out exhibition games and at least part of the team's trip to Europe. The decision was entirely precautionary, though, and Sather took the time yesterday to express doubts of the optimistic sort:
"There are a lot of things that cause headaches. You can look at migraines — you can have a slipped disk, you can have pulled muscles, you can have a hundred different things," Sather said after Monday's press conference at Philadelphia's Citizens Bank Park announcing this year's Winter Classic game between the Rangers and Flyers. "Trying to diagnose exactly whether it's a concussion or something else that's bothering a player, that's what you really have to find out first. And, that's been complicated." 
Granted, a slipped disk or a pulled muscle would also be cause for some concern (not to mention "a hundred different things"), though it's clear what Sather, who added that he's "not concerned at all" about Staal, is getting at. The Rangers are being deliberately overcautious with their prized defenseman, going so far as to keep him stateside for the time being as the Rangers head off to Prague. The excessive diligence doesn't seem to be a sign of genuine worry, but an acknowledgment of hockey's dicey relationship with human heads. The post-concussion tribulations of numerous NHL players, most notably Sidney Crosby, have kept head injuries in the spotlight as a major cause for concern. It makes sense, both with respect to Staal's brain and as a gesture to those paying attention, to take all of the precautions.
All that said, Sather appears to be getting impatient. The Rangers lost defenseman Michael Sauer to a sprained shoulder last night, and may miss him for a week or so. As the regular season approaches, all the caution gives way to desperately needing Staal on the ice to buoy a depleted cast of defensemen. That's where Sather's comments come in, and that's why Staal will be back with the team, and perhaps back in skates by week's end. One hopes that Sather's optimism is well-placed, that Staal sees no further symptoms during the season, and that the Rangers are just as vigilant if he does.