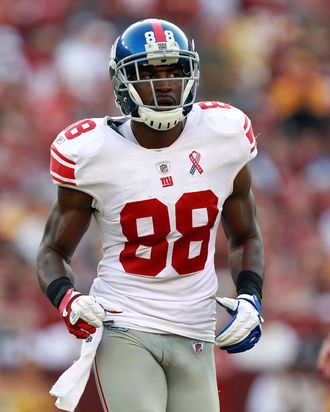 The Giants lost last Sunday with receiver Hakeem Nicks hobbling and defensive end Justin Tuck on the sideline. This coming Monday, they'd quite like to reverse all three trends. As it happens, the injury updates for Nicks and Tuck (stylized as "nicks/tuck" — the backslash is a scalpel) from Thursday's practice sound hopeful. Nicks, who bruised and hyperextended his leg parts against the Redskins, did not practice yesterday, but worked out separately and had this to say afterward:
"If I'm feeling good [Monday] like the way I'm feeling today, then I think I can play," Nicks said Thursday afternoon. 
Good, in this case, means that the swelling in his knee has subsided, but there's still some pain to be withstood. It sounds as if Nicks is up to the challenge and that the decision will ultimately be his own.
Meanwhile, Tuck did participate in yesterday's practice, including the padded part (Giants practices start in the nude and progress gradually to full ballistic armor). Recall that Tuck did not take part in padded practice last week, but thought he'd be ready in time for the first game. He wasn't, but the participation in practice this time around is encouraging, as were his words after the fact.
This was going nowhere for a while until Tuck said he had a "gut feeling" he would play on Monday. Sure, he had the same gut feeling last week, but the fact he participated in a full-pads practice today was certainly a good sign.

"If I could go out and play on Monday how I felt in practice today, I'll be out there on Monday," Tuck said. "So hopefully we don't have any setbacks, but we're doing everything we need to do or think we need to do to make sure I'm on the football field. That's about all I can give you."

Tuck said there's "no pain" in his neck. "There's something else," he said, "but there's no pain." 
So, that's another "gut feeling" regarding the neck, perhaps with a bit more to back it up. Allowing body parts to vouch for one another is always dicey, and Tuck might be better suited to speaking to his neck directly this time. Either way, things sound somewhat hopeful.
On the other side of the line of scrimmage, we've also got updates from various injured Rams. (Did I mention that the Giants are playing the Rams on Monday? Well, they are. They're a football team just like the Giants, except they play in Missouri and have curly horns). St. Louis running back Steven Jackson injured his quad during Sunday's loss to the Eagles and sat out practice today. His return sounds somewhere between improbable and iffy, which means we might see a lot of Cadillac Williams and Jerious Norwood instead. Lesser running backs, cooler names. Quarterback Sam Badford is decidedly less iffy. He declared himself ready to go, bruised finger be damned.

The good news for all parties is that a Monday game offers an extra day to rest and recover. The weekend should be spent eating plenty of vegetables, applying heat and ice, and resisting the temptation to roughhouse. There will be absolutely no roughhousing.