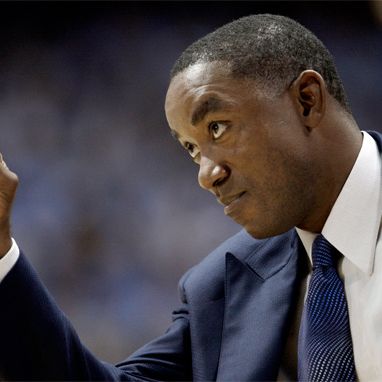 There's an NBA lockout in effect right now, which means that no one from the Knicks — not Mike D'Antoni, not Glen Grunwald, not anybody — is allowed to have any contact with any of the players on the roster. That rule, however, doesn't apply to former general managers who have no official role with the organization but reportedly maintain contact with the team's owner no matter how much it upsets the fan base of that very team. Which is to say: That rule doesn't apply to Isiah Thomas.
And so recent reports that Amar'e Stoudemire is among several NBA players who have been working out at Florida International University, where Thomas serves as head coach, won't bring any sort of fine. But forgive us if we're conditioned to be wary of Isiah having any connection at all to the Knicks, even if it's simply during some workouts that also involve players (like Joe Johnson and Juwan Howard) from other teams.
The Daily News version of this report, by the way, includes this nugget about Thomas:
He's now working behind the scenes to help the Knicks land Chris Paul.
We're frankly still a little exhausted from the Carmelo Watch, in part because of all the speculation that Thomas was in some way involved in an unofficial capacity. We'd been hoping that we could hold off on the inevitable Chris Paul Watch at least until the lockout ended. Apparently not, though.