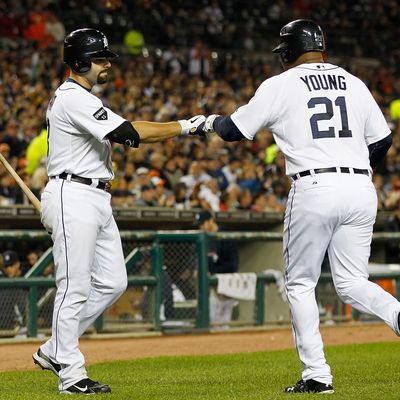 The two Wild Cards weren't the only things determined on a terrific night of baseball last night: The Rangers win over the Angels meant that the Yankees would face Detroit in the ALDS. As we wrote the other day, that's not really the ideal match-up for the Yankees in the first round. But what does a match-up with Detroit mean for the Yankees?
All of the Tigers' starting pitchers are right-handed, which means Jesus Montero might not see much action as the designated hitter, at least not as the starter. That also might mean playoff starts for Jorge Posada, whose numbers against righties are respectable. Montero coming off the bench could also mean that the Yankees won't feel the need to carry Austin Romine. (The nightmare scenario for the Yankees, if they don't carry Romine: Montero pinch hits for Posada against a lefty reliever, Russell Martin either gets hurt or is ejected for telling another joke, and Montero is forced to catch while the Yankees lose their DH.) Speaking of Montero: He left last night's game with an injury, and though that threatened to put a damper on an otherwise exciting night, Montero said he's okay.
Joe Girardi also announced that Freddy Garcia will start Game Three. Who would have thought, back during this spring's Rotation Derby, that Garcia and Ivan Nova, the winners of the final two spots in the rotation, would have been the starters in Games Two and Three of the playoffs? (And no, that's not necessarily a good thing.)
A.J. Burnett, meanwhile, will work out of the bullpen. (In preparation, Burnett pitched to one batter in relief last night, recording an out.) The ALDS scheduling allows the Yankees to use a three-man rotation, and only CC Sabathia, the Game One starter, would have to pitch on short rest, in Game Four. (Ivan Nova, the Game Two starter, would be able to start the decisive Game Five on regular rest.)
Only Game One has a start time at this point, by the way, and it's a pretty late one: First pitch tomorrow is scheduled for 8:37 p.m.