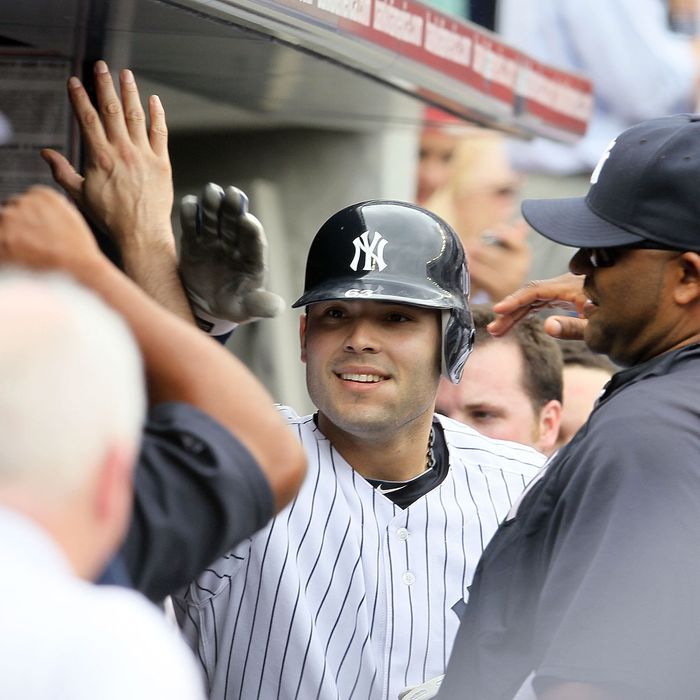 Jesus Montero's big-league career is off to a very nice start: He smacked his first two home runs in yesterday's ugly 11–10 win over Baltimore, and through four games, he's 5-for-13 with a walk and three RBIs. That's an extremely small sample, of course — we'd like to think no one would have freaked out if he started, say, 2-for-13 — but it's promising stuff nonetheless.
Yankees fans had waited a long time to see Montero make his big-league debut last week, but we're not going to lie: We were almost as excited to hear what John Sterling would come up with for Montero's personalized home run call. Not only is Montero a highly touted young player, but he's got a great name for Sterling to work with. The possibilities seemed endless. (Our sleeper pick, knowing Sterling's love for musicals, was "Jesus Montero, superstar!")
But Sterling's actual call was terribly disappointing. (And in a contract year for Sterling, no less!) On Montero's first home run, he went with "Jesus is loose!" On his second, a slight variation: "Jesus has been turned loose!" Had someone played those calls for Montero, surely Jesus would have wept.
According to our John Sterling catchphrase guide, this is a Type One home run call ("rhyming") — a category usually reserved for players with boring names. But there's plenty to work with here, and Sterling even had one of the team's beat writers feeding him submissions from readers. And we're not the only ones disappointed here: Even Newsday notes that reaction on Twitter was mostly negative.
So what's the deal? Was Sterling afraid to use a religious reference, for fear of offending people? Perhaps, but this is the same man who casually throws around a reference to an atomic bomb in one of his home runs calls.
In any case, we encourage you to try to top Sterling's call in the comments section. We're confident you can.