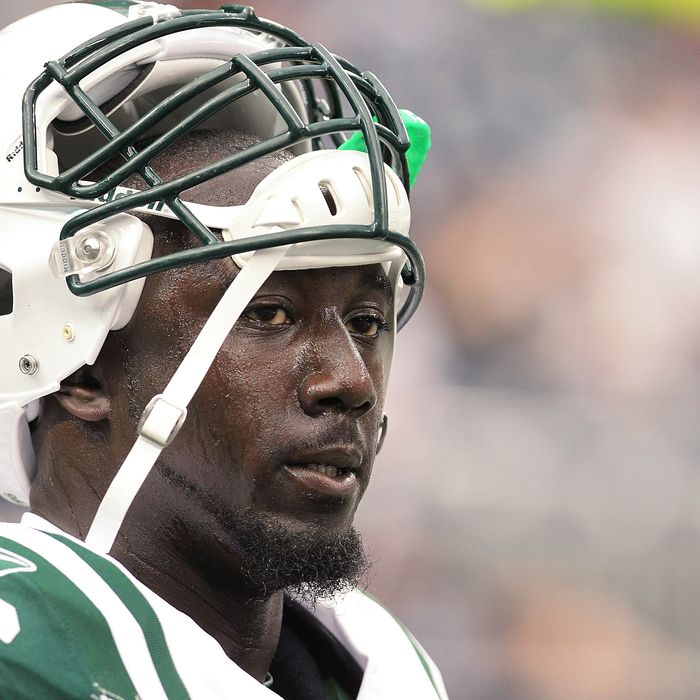 The interminable summer is over: The NFL season begins this Sunday. We begin our preview of the local 53s today with a look at the Jets' most significant new players. Tomorrow: A schedule breakdown. (The Giants are coming later. We didn't forget them.)
The Jets made the headline-grabbing move you'd expect them to make this off-season, but all told, this isn't a dramatically different team than last year. You can be worried about this, that the team is complacent and not as aggressive as, say, the Eagles. On the other hand, the Jets have gone to two AFC Championship games in a row. So there's that.
Let's take a look at the three biggest acquisitions.
Plaxico Burress. All right, so this is the one you've heard the most about. That doesn't mean he'll make the biggest impact. He is the large target the Jets have been trying to acquire for Mark Sanchez for years, but he's old and, oh yeah, he hasn't played in about two years. He also is still having ankle and back issues. And — worst of all! — he has yet to convince Joe Namath. This will not stop Burress from being the story every time he touches the ball, and often when he doesn't.
Derrick Mason. He's even older than Burress, by three years, and actually played the last two years, getting tackled and dinged and all that goes with that. (He's been a little banged up this preseason too.) He's still a reliable threat as a replacement for Jerricho Cotchery and is the type of guy who you don't notice until he wins a game in the final seconds. Still: Really old.
Muhammad Wilkerson. Because of fantasy football, he's probably the name you recognize the least on this list, but he's likely the most important. The first-round pick out of Temple is being counted on to replace Shaun Ellis on the defensive line, and the Jets need him: They don't have a logical replacement, so he'll be thrown into the fire right away. He's 305 pounds, which is big only in normal human terms. If he has a big year, the Jets defense will be even better than anyone expects.