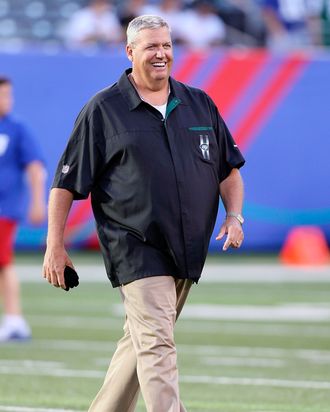 Yeah, he looks happy NOW.
The interminable summer is over: The NFL season begins this Sunday. We began our preview of the local 53s on Tuesday with a look at the Jets' most significant new players, and continued yesterday with a week-by-week schedule and predictions. Today: A look at what the 2011 season means. Tomorrow: A preview of week one's game against the Dallas Cowboys.

Rex Ryan has brought the Jets unprecedented success in as entertaining a fashion as you could possibly hope for. When Ryan was hired, the Jets had reached three conference championship games. Two years in, they have now reached five. And perhaps more importantly, the Jets are no longer a punch line. Even when Bill Parcells was here, it was generally assumed that he was just around as a temporary Band-Aid, that the Jets would go back to being the Jets when his attention inevitably waned. This was not true — in the eleven years since Parcells left, the Jets have had eight winning seasons — but nevertheless, every game the Jets lost, you heard it: Same old Jets.
You don't hear it so much anymore. But if the Jets don't build on the success of the last two years, you might start to hear it again.
For the last two years, each of the Jets' title game appearances has been a surprise. 2010's was almost surreal; 2011's seemingly charmed. If the Jets make the AFC Championship Game this year, though, it won't be nearly as much of a surprise. And they'll be expected to win it.
That's why this year is so critical for Rex Ryan and the Jets: It is truly Super Bowl or bust. If the Jets don't make the Super Bowl this year — or even reach the AFC title game or, horror of horrors, they miss the playoffs altogether — the Rex Ryan traveling fun show isn't nearly as charming. All the aspects of the Jets we love — Mark Sanchez's ongoing growth (and odd GQ shoots), Revis Island, the headline-grabbing moves like Plaxico — start to become annoyances, idle boasts from a team and a coach that cannot back it up.
The Jets have been so much fun because they've been so high-wire; they've talked and acted huge, a high-risk proposition that has paid off. (It's a lot more fun than winning quietly and humbly, at least from a fan's perspective.) But now the expectations are a Super Bowl. The team has come close twice, and now they better do it. To be this brash and this loved, your fans must have faith that you have a plan, and that your plan will eventually work. This year has to be the "eventually."
The Jets' ride has been so enjoyable the last two years that you almost didn't notice (or mind, anyway) that two more years went by without the Jets reaching the Super Bowl. It has been 43 years now. It's time. Otherwise, this ride's gonna end, and end badly. Anyone can create an original story and make it entertaining. Now the Jets have to finish the story. Next year at this time, we're either talking about Rex Ryan as a mayoral candidate, or we're talking about what he, like every other Jets coach, couldn't get done. Sorry. It's just the way it works.