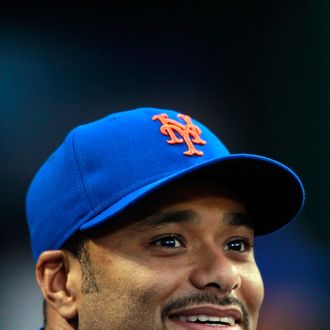 Johan Santana had his left shoulder surgically repaired on September 14, 2010. Since that day, he's pitched in just two baseball games, both for the St. Lucie Mets, and both within the last two months. After starting and pitching two innings in St. Lucie on Saturday, Santana is slated to make another rehab start this Friday. (Note: In the event that St. Lucie gets eliminated from the playoffs before Friday, Johan might be a Sand Gnat!) At some point thereafter, the Mets — the New York ones — are hopeful that he might make some big-league appearances. Really! Via the Post, Mets pitching coach Dan Warthen, having just seen Santana toss his way through a bullpen session, had this to say about the prospect of Johan returning:
"Seeing hitters, getting adrenaline going, going that extra notch, we're going to find out how he reacts to all those situations," Warthen said. "We may have to find out. If he feels ready to go and wants to throw a couple of innings, we'll certainly be more than willing to accommodate him."

So, that would be cool. A look at Santana facing major leaguers, even in a relief appearance, would be something to look forward to. Of course, it's not THE thing to look forward to.
The Mets would gladly trade a few sneak peeks of Santana this year for the real deal next year. Sound bites from Mets management are characterized by confident but measured expectations that he'll be fully available for spring training. After a year fraught with setbacks, though, they're not getting overly excited. Well, actually, Warthen got a little worked up. From the Daily News:
"The stuff is better than he had last year."

That was a surprising assertion. Better? How so?

"Better velocity," Warthen said. "The arm was in the same slot each and every time. He wasn't searching for a place that didn't hurt."
But let's not get ahead of ourselves. Next spring is of the utmost importance, and between now and then, it's more about preserving Santana's shoulder and avoiding re-injury than anything else. As he works through practice sessions, minor-league starts, and perhaps even a major-league appearance or two, rest assured that Johan will be most tender with that wing of his. All reports indicate that he's been exceedingly careful and communicative so far, which is exactly what you'd like to hear. Next year's Mets could use a legitimate ace, and a healthy Santana should be that guy. If everything goes well, perhaps we'll get a preview before then.