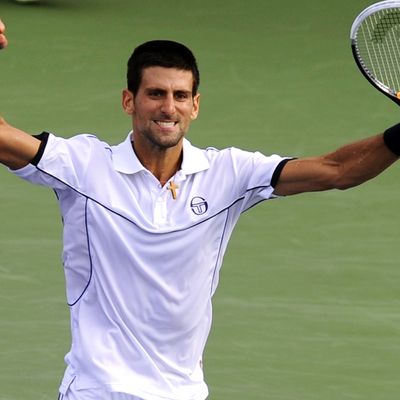 The middle weekend at the U.S. Open is generally when the matches start to heat up, as the seeded players encounter increasingly tricky opponents. As a result, there were several grinding matches over the long weekend and some notable knockouts. With a likely rainy, delayed start today (if they start at all), you'd do well to take this opportunity to catch up.
Many attendees began their Labor Day holiday by immediately getting in an endless line for the late afternoon match between Novak Djokovic and Alexandr Dolgopolov, which was questionably scheduled for the entirely too small Louis Armstrong Stadium. At the notion of seeing the player who has lost only twice this entire year in a stadium with just a 10,000-person capacity, grounds ticket holders were willing to wait for hours in a line that snaked across the site and required extra security to maintain.
The wait might have paid off for some, as the Serb's opponent, Alexandr Dolgopolov, offered the greatest attack on Djokovic's game we've seen from anyone so far this year — at least during the first set. He moved at an exhilarating pace, keeping the unnerved Djokovic off balance with unpredictable shot selection and a breakneck serve. But the feisty Ukrainian lost one too many opportunities in the first set tiebreaker, ultimately handing it to Djokovic and losing his edge. Often times, a champion wins ugly by just hanging in as an inspired opponent finds a way to unravel. Djokovic did just that on Monday, as did Caroline Wozniacki to evade Svetlana Kuznetsova.
While that tiebreaker between the two lads grew more intense with each point, it was nothing compared to Samantha Stosur and Maria Kirilenko's exchange on Sunday. The two ladies played the longest tiebreak in women's singles Grand Slam history, pushing spectators to the edge of their nerves with a 17–15 scoreline. Stosur ultimately claimed the victory, but she later admitted feeling disoriented during the epic tiebreak.
The heat and humidity that day invoked batty behavior across the board. Flavia Pennetta (the Italian who knocked out title contender Maria Sharapova) dry-heaved her way to a victory against Shuai Peng, but only after receiving a time violation for spending too much time retching in the corner. During a changeover in Andy Roddick's match against Julien Benneteau, the American had a mental lapse and sat down in his opponent's chair — after they had already been playing for a full two sets. And in a scary moment for everyone in attendance, Rafael Nadal grimaced mid-sentence in his press conference after beating David Nalbandian, slumped in his chair for several seconds with his eyes clenched shut in pain, then finally slid to the ground.
As everyone soon found out, it was just a very intense leg cramp, and the Spaniard was up again about fifteen minutes later, smiling about the ordeal. According to Nadal (and Andy Roddick, who was quick to squelch the media fuss about the incident), tennis players frequently have these spasms after a match. Caroline Wozniacki even questionably imitated having them in her own press conference the following night. It shouldn't suggest that Nadal is ill-prepared for his upcoming round of sixteen match against Gilles Muller.
Top-ranked American Mardy Fish, however, struggled with hip and hamstring pain yesterday during his five-set defeat against Jo Wilfried Tsonga. Fish arrived at Flushing on a summer hard-court streak, and many had already penciled his name into a quarterfinal showdown with Roger Federer. But Tsonga's massive ground strokes and aggressive game brought that dream to an end. The Frenchman earned one of his greatest career results this year at Wimbledon when he ousted Federer in the quarters at Wimbledon; no doubt the Swiss will be looking to exact revenge come Wednesday.