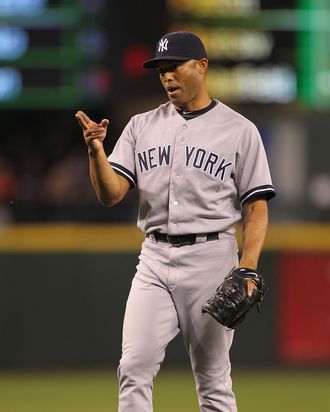 Mariano Rivera, last night.
Mariano Rivera never struck us as the type of pitcher who'd imagine what his own career milestones would look like, but if he ever did daydream about how he'd close out a game for career save No. 600, we doubt he'd have envisioned the final out as a caught stealing, as opposed to, say, a broken-bat ground ball to second. But that's how the ninth inning ended last night — with Russell Martin gunning down Ichiro Suzuki at second to secure the Yankees 3–2 victory, and with Derek Jeter handing over the game ball to his longtime teammate Rivera.
To be honest, save totals aren't really the best way to evaluate a closer. A pitcher, in theory, can pick up plenty of cheap saves, and a pitcher can also record a save in a game in which he hasn't pitched particularly well. (Or to put it another way: Not all saves are created equal.) The stat itself has only officially been around since 1969, and the concept of the one-inning closer only goes back a few generations.
And now that Rivera has gotten to 600, he still needs two more saves to pass Trevor Hoffman and move into first place on the all-time list. But with all due respect to Hoffman, Rivera long ago established himself as the greatest closer ever, and one has never needed to cite save totals to explain why. Which isn't to say that Rivera doesn't have stats to back up that claim; he is, after all, the all-time leader in ERA+.
But it's also his remarkable consistency, at a position that's seen so many closers flame out after just a few years. It's the way he's mastered a skill  — in his case, throwing that perfect cutter — in a way that only the most elite of athletes can. It's his ridiculous longevity: At the age of 41, he's on track to post his fourth straight season with a WHIP under one. And it's the way he's allowed Yankees fans to feel more comfortable in pressure situations over the years than they've had any right to be. Seriously, just take a look at those postseason numbers.
Having said all that, 600 is a very round — and very large — number. Rivera is just one save behind Hoffman now, and soon enough, even the all-time saves list will confirm what we've already known about Rivera, which is that he truly has no peer.