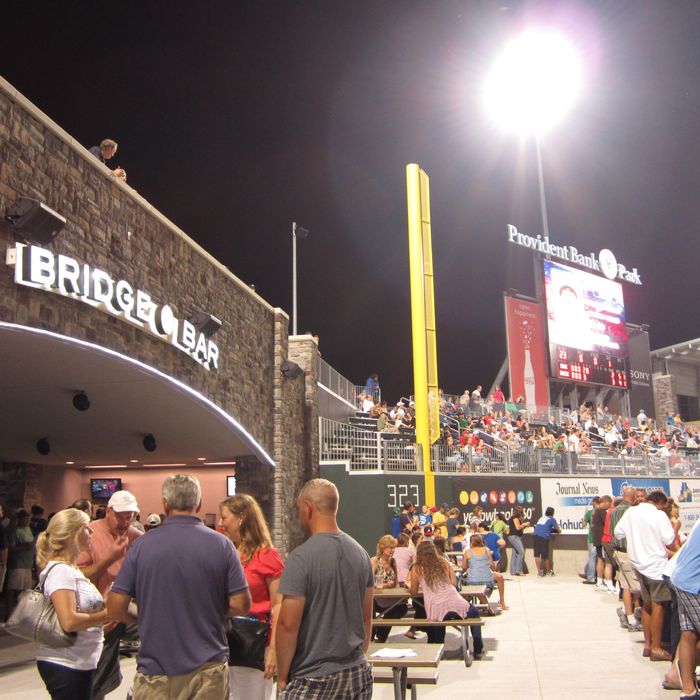 The Bridge Bar at Provident Bank Park.
Last summer, we visited all eight minor-league baseball parks within a 50-mile radius of The Sports Section world headquarters in Manhattan. It was quite a trip: We saw a game of Flonkerton between innings in Brooklyn; a Pixar short during a pitching change on Staten Island; and a race between a pork roll, an egg, and a hunk of cheese in Lakewood, New Jersey. One of the teams we saw — the Sussex Skyhawks of the Can-Am League — didn't operate this season. But a new team — the Rockland Boulders — started play in that very same league this year. And since the Boulders' Provident Bank Park falls within our 50-mile radius, we paid a visit over the holiday weekend. Unfortunately, the Boulders' season ended yesterday, but consider this as you plan your baseball-watching for 2012.
Venue: Provident Bank Park, Pomona, New York
Team: Rockland Boulders
Ticket Price: $14 for Row L behind the home dugout
Facilities: It's only appropriate that a team called the Rockland Boulders plays in a ballpark that incorporates a lot of stone into its structure. (You can read all about the materials used in its construction here.) And so, like MCU Park on Coney Island, Provident Bank Ballpark fits in perfectly with its upstate surroundings. There's no shortage of interesting seating areas: picnic tables in right field, for example, or bleachers in right-center with ledges to put food on. But the most unique space is the Bridge Bar near the foul pole in left field. Under a stone arch — the top of which is part of a concourse that wraps 360 degrees around the stadium — there's a bar serving not just beer but wine and mixed drinks as well. And once you've got your drink, you can stand at field level and watch the game from the left-field corner. There's also a playground area for kids in right field, and on the first base concourse, there's an indoor batting cage where kids and adults can take a few swings. As for the dimensions, the 313-foot porch in right makes up for the absurdly high center field fence, more than 400 feet away. Grade: 9/10.
Quality of Play: This seems like a good place to note that the game we attended Sunday night featured something of a special guest: Former Met Howard Johnson appeared in two games this weekend, playing alongside his son, Glen. HoJo's appearance was heavily promoted by the Boulders: An ad for the game appeared on the back page of Sunday's Daily News. (It was surely not a coincidence that the crowd of 6,300 was the largest in the team's short history.) HoJo, if you're wondering, is 50 years old now. And as we watched Johnson ground out weakly to first in his final at-bat, it struck us that something like this could only happen happen in the low minor leagues. (The Can-Am League is not affiliated with a big-league team, and unlike the independent Atlantic League, its rosters tend not to be dotted with former big-leaguers looking to hang on a bit longer.) Grade: 3/10.
Promotions: The Boulders had a bunch of pretty standard promotions on their schedule (fireworks, kids run the bases, heritage nights), and ran plenty of weekly specials (dollar-hot dog Mondays, discounted tickets for residents of different Rockland County towns on Tuesdays, etc.), but our favorite dates on their schedule were the three scheduled "Provident Bank Pay Days," which called for the distribution of 1,000 collectable piggy banks, each of which contained money ranging from $1 to $100. And give them credit: HoJo's appearance really packed the stands. Grade 5/10.
Adorability: Between-innings games included a dizzy-bat race, a Guitar Hero challenge, and, weirdly, a game in which the participant had to guess the type of bread (oat, sourdough, or rye) inside of a box by shaking the box. (The correct answer on Sunday night: oat!) Also: One of the games involved kids building a pyramid out of cardboard boxes while blindfolded. We'll just assume it's a league rule that at least one team must involve cardboard boxes in its between-inning games, and the Boulders are just picking up where the Skyhawks left off. Grade: 6/10.
Miscellaneous: Provident Bank Park gets points for putting a ribbon scoreboard on the first-base side so fans in left-field can see the score. And the entrance area near home plate is especially nice, with a neat-looking clock tower and a grill. But be warned: For games that draw big crowds, traffic can really back up. Even with the stadium's exit off the nearby Palisades Parkway in sight, it took us nearly an hour to get off the highway and into the parking lot of Pomona Professional Plaza, where a police officer directed us because the main stadium lot had already filled up. (Sidenote: If we were HoJo, knowing we were largely responsible for such a traffic jam would do wonders for our ego.) Grade: 5/10.
Total: 28. The terrific venue makes up for the fact that you're watching a relatively low level of minor-league baseball. Provident Bank Park's score, by the way, places it behind two of the parks we visited last year (Brooklyn and Staten Island), and puts it even with FirstEnergy Park in Lakewood.