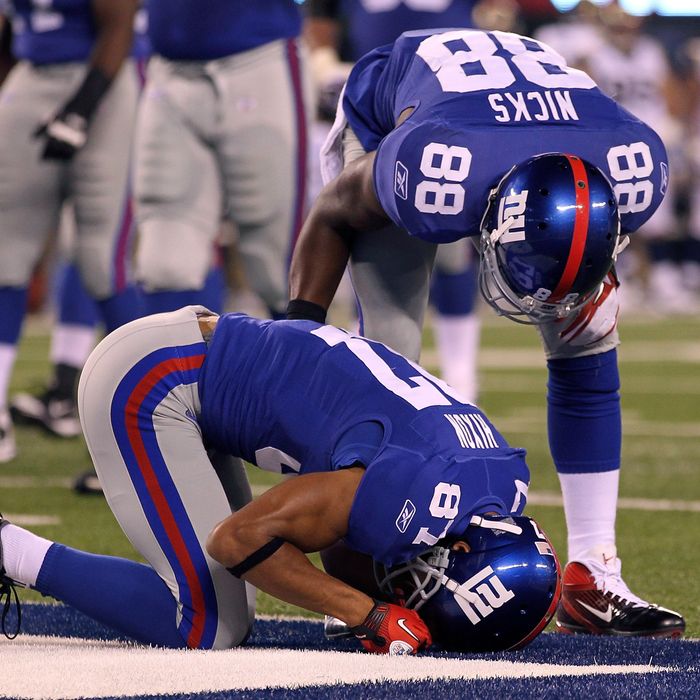 This is getting ridiculous. The word this afternoon is that Domenik Hixon's falling, juggling touchdown catch to close the first half of Monday's win over the Rams will be his last of the season. When the announcers were shrieking "Look at his eyes! Look at his eyes!", we perhaps should have been looking at his right knee instead because it was busy falling to pieces. Hixon, who was in visible pain following the reception, left the game and has since been diagnosed with a season-ending torn right anterior cruciate ligament.
We're now getting to the point at which people who write about the Giants consider installing "ACL" keys on their laptops. This is the second consecutive year in which Hixon has torn the ligament, and he joins Terrell Thomas, Jonathan Goff, Brian Witherspoon, and Clint Sintim in that fate. That's far too many torn ACLs, and that's not even the end of it for the Giants. For one, they've also lost Bruce Johnson and Marvin Austin to season-ending injuries. Of more immediate concern, the Giants need to figure out who's going to catch Eli Manning's passes.
Hixon is done, but that's not the extent of the damage to New York's receiving corps. Mario Manningham suffered a concussion on Monday, and pending test results, may not be ready by the time the Giants face the Eagles on Sunday. That leaves a meager group of pass-catchers for the Giants and, one would imagine, one smirking Eagle. From NBC's Josh Alper:
Sigh. Please, other Giants, make sure your various ligaments are sturdy and properly affixed before taking to the field.