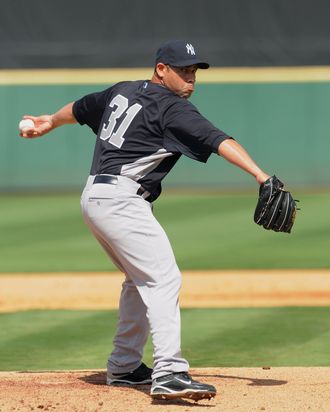 Pedro Feliciano, during spring training. Obviously.
Pedro Feliciano has thrown as many pitches for the Yankees this season as you have, assuming you are not one of the 25 people who has thrown at least one pitch for the Yankees this season. And now it looks like he might not throw any pitches for the Yankees next year either: The Yankees announced yesterday that Feliciano underwent rotator cuff surgery last week, and the timing of the operation means Feliciano could potentially miss all of next season as well. Needless to say, Brian Cashman was hoping for slightly more production from Feliciano when he gave him a two-year, $8 million contract with a club option for a third year.
Feliciano, of course, had appeared in a record 266 games for the Mets over the previous three seasons. It's here we'll remind you of this series of quotes from back in April, when Feliciano was on the fifteen-day disabled list but still intended to pitch in 2011:
"The use pattern was abusive." — Brian Cashman

"I feel badly that [Cashman] feels that way. That was part of the reason we decided to not re-sign [Feliciano] — because we knew we had used him 270-some times in the last three years." — Mets pitching coach Dan Warthen 

"I will show him in the Subway Series. When I strike out Ike Davis and I jump on the mound [pointing his finger as if Warthen were in front of him], I'll say, 'That's for you.'" — Pedro Feliciano
Look, Cashman knew he was getting a pitcher with a ton of mileage when he signed Feliciano, and in a thin market for lefties, it was a risk he was willing to take. It blew up in his face, yes, but it's the kind of mistake a team with money can afford to make. As for Feliciano, though, it doesn't look like he'll get that chance to stick it to the Mets in a Subway Series. Unless, you know, the Yankees pick up his $4.5 million option for 2013.