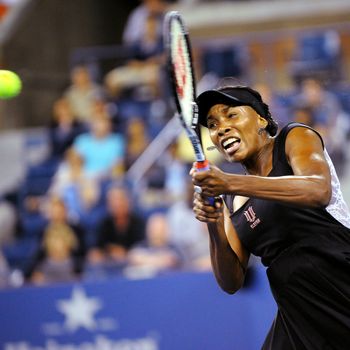 The tennis world took to Google yesterday when Venus Williams announced that she was diagnosed with Sjorgren's Syndrome, a little-known autoimmune disease that causes fatigue and joint pain (as well as dry eyes). And to the dismay of many, Williams withdrew from her hotly anticipated second-round match against Sabine Lisicki, the en fuego German who made the semifinals at Wimbledon in July, because she said she could barely lift a racket. 
At 31 years old, Venus is no spring chicken, and many wonder if battling an incurable disease at this stage is tantamount to the end to her illustrious career. Andy Roddick himself expressed concern as he emphasized the gravity of the diagnosis. "If Venus isn't playing at the U.S. Open, it's got to be something," he said. "She didn't withdraw because she's sneezing too much." 
While the news about Williams left many perplexed, the tournament did offer up two exciting upsets yesterday from American players: Irina Falconi knocked out the 14th seed, Dominika Cibulkova, in a tight three-setter, while Christina McHale stunned the 8th seed Marion Bartoli in straight sets. McHale has had an excellent hard-court season this summer, with wins over top-ranked Caroline Wozniacki and Svetlana Kuznetsova (owner of a U.S. Open title).
McHale added another scalp to her belt with her impressive victory against Bartoli, who at first seemed in control with a vicious two-fisted forehand. But rather than try to match this power, McHale employed wide, sharp angles to stretch the ball away from Bartoli's limited reach. She played an excellent tiebreak in the first set, and then, leaning on her exceptional movement and defense, McHale immediately broke in the second. Unlike other seeded women's players this week, Bartoli didn't give the win away; she was not at her absolute best, but she was smoking ground strokes and fighting until the very last point. McHale plays Maria Kirilenko in the third round, and it will be interesting to see how she fares against the wiry Russian. 
Otherwise, many of the top names met with minor challenges before claiming the expected victory. Andy Murray stumbled in his opening set, but quickly recovered and notched a straight-sets win, while Maria Sharapova made amends for her first-round scare with a Serena-like scoreline of 6–1, 6–1 against Anastasia Yakimova. And although New York favorite Roddick wobbled when he was pushed to four sets during his marquee match, he didn't fall down.
His performance last night might have seemed dispassionate to some, but he exhibited his characteristic fire during a somewhat uncomfortable post-match interview with ESPN commentator Chris Fowler. Roddick declared that being a tennis analyst is "the easiest job in the world" since "it doesn't take much thought." Faced with a slap, Fowler laughed it off. But if the industry truly is concerned about Roddick's passion, they should consider parking a member of the ESPN crew courtside during the American's next match.