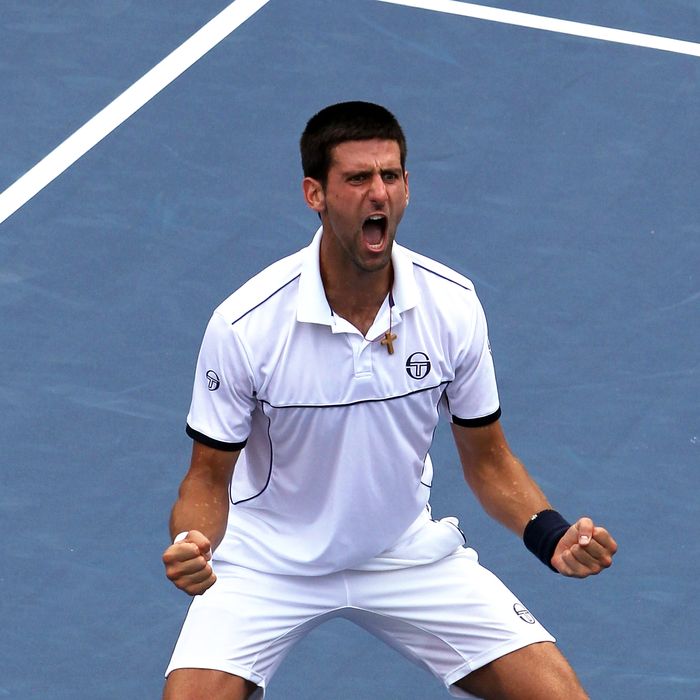 The U.S. Open will draw to a close this afternoon with the men's final, but today's match will determine more than just the tournament's champion. For the entire 2011 season, Novak Djokovic has been a near unbeatable force, dominating the tour with a smirk and an unbreakable game. The defending U.S. Open champion Rafael Nadal is still as savage as ever, but he's been quizzically ineffective against the Serbian, who has a perfect record against him this year. The season is drawing to a close, and this final will do much to determine where the number one and two players stand for the coming year; will Djokovic keep on rolling, or will Nadal finally figure him out? 
It has taken awhile for Nadal to warm to the hard courts this summer, but he rekindled shades of his 2010 form once again in his semifinal against Andy Murray. The Brit is no slouch of course, and his ability to match Nadal in rallies led to some exhilarating points and a four-set match. But Murray couldn't escape Nadal's unbelievable shotmaking in times of pressure, a sure sign that Rafa is feeling keyed in. Djokovic, on the other hand, didn't play his best match against Roger Federer in his semifinal, but he proved once again why he's only been defeated twice this entire season; you just can't put him down.
Federer was at his best for the first two sets, hitting smooth forehands and fluid serves, and for much of the match, it seemed certain that we were about to witness Djokovic's third loss of the year. But much like his semi against Federer during the French Open, the Serb suddenly defaulted to survival attack mode — only this time around, he actually followed through to the end. Djokovic stormed back from two sets to love down, and then fought off two match points on Federer's racket. The comeback was awe-inspiring and Djokovic certainly worked for it, but Federer really should have had this one. Nadal, on the other hand, will not be so lax when (if ever) he gets his foot positioned above Djokovic's throat.
Djokovic has beaten Nadal five times this year, all finals, several of which were on Nadal's comfort surface of clay. Nadal even admitted to reporters that Djokovic is "in my head." The battle that will unfold this afternoon will thus involve some mental intricacies, and the victor will signify the tide of power going into the tour finals and next season.