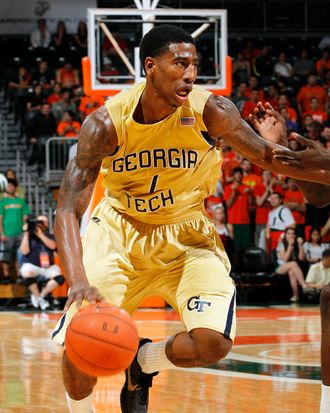 Iman Shumpert, someday a Knick.
Those following the NBA lockout will turn their attention to Las Vegas today. Days removed from a meeting with the owners that reportedly didn't make much progress, Billy Hunter and NBA Player's Association representatives will meet with a large assembly of players to catch everyone up to speed. They'll talk about the CBA, BRI, hard caps, soft caps, and all sorts of other financial edifices required to re-instate a functional league. Meanwhile, elsewhere in Vegas, NBA players will be playing basketball. Competitively. With, like, refs and jerseys and benches and stuff. It's the Impact Basketball Competitive Training Series, it's been going on for a few days, and it's actually populated by some noteworthy NBA talent.
These are essentially organized pickup games that are drawing pretty much zero attention, but it's almost all active NBA players, so the skill level is decent enough. Players like John Wall, Rashard Lewis, Stephen Curry, and the Knicks' Chauncey Billups have either suited up or are expected to attend at some point during the two-week event. So, if you're Knicks draft pick Iman Shumpert (which you probably aren't), the Impact League is a pretty excellent opportunity to get a feel for professional competition — better, perhaps, than the usual Vegas Summer League, which is predominantly fringe players and journeymen. Shumpert's been in attendance since day one, and he's kind of running shit. He's twice registered over twenty points and has reportedly been one of the league's finest practitioners of defense. We mustn't get too worked up over performances in meaningless games, but it's hard to ignore the hype. Celtics writer A. Sherrod Blakely called Shumpert the "hands-down best" of the rookies after the first day. USA Today's J. Michael Falgoust is also in Vegas, and has repeatedly lauded Shumpert's game, praising the youngster's shooting (billed as a weakness of his) and calling him the league's "best young player" and "the only guy playing defense" (which may be more of a comment on the overall style of play than anything else, but even so … ).
Shumpert isn't the only Knick expected to play. Billups, who is tight with the folks running the league, should arrive sometime next week, providing an opportunity for veteran to impart wisdom upon rookie and generate some backcourt chemistry in advance of the season, whenever that arrives. Also slated to participate are Roger Mason, Josh Harrellson, Jared Jeffries, and Shawne Williams, though it appears that none have actually showed up yet. One hopes that all six are present simultaneously so Shumpert's "Team D" can trot out a full lineup of Knicks (plus a sub!).
So, that's cool. Knicks fans are dying for some actual basketball, and even meager, diluted nourishment is a welcome distraction from the cash-grappling that's dominating the news cycle. It's reassuring amid all the business that basketball still exists somewhere, and that an up-and-coming Knick seems to be quite good at it.