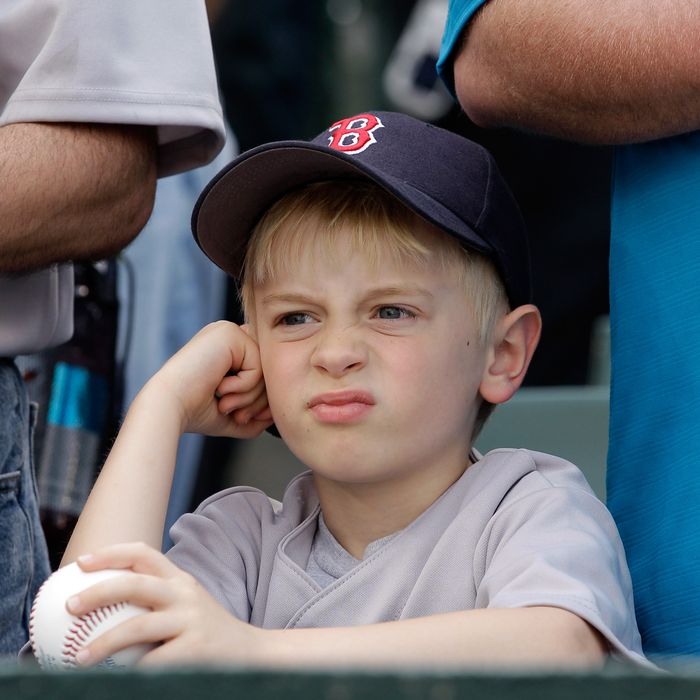 The Red Sox have won two World Series in this kid's lifetime.
You know the Red Sox Collapse meme is gaining considerable steam when Salman Rushie is tweeting about it. Quoth Padma Lakshmi's ex: "A good morning for Yankees fans, esp when we recall how arrogant the Red Sox were at the start of the season. Well done Jorge!" You would almost think the Red Sox are on the brink of elimination. They're not.
Sure, the Red Sox lost again last night (in what might be their last home game of the season), and their fans are understandably freaking out. The Sox have lost twelve of their last fifteen, and their Wild Card lead has fallen to 2.5 games, ahead of both Tampa Bay and suddenly charging Anaheim, with a week left to go. The Yankees just won the division last night. It's a rough, rough time for Sox fans. Poor guys.
But honestly: The Red Sox still have very little to worry about. Sure, they have a rough road-series coming up with a Yankees team that will be highly motivated to crush their windpipes. They're reeling. Everyone's blaming the guy who got them two World Series titles, for some reason. Fenway's in flames. Bad times. But this is all going to be forgotten when the Red Sox open the ALDS in Texas or Detroit next week, which is almost certain to happen.
Why? Because it's extremely difficult to lose a 2 1/2 game lead with a week left in the season. It has been done, of course. But it's very hard. How hard? Baseball Prospectus gives the Sox 91.5 percent odds to win the Wild Card; coolstandings.com, which we trust slightly less, has them at 87.3 percent. For all the talk of how "defeated" the Sox look, and how the momentum feels, those are the cold, hard numbers: The Sox would not only have to continue their collapse, they'd need the Rays and Angels to keep winning like crazy.
The Sox have the Yankees and Orioles on the road. The Rays have four with the Yankees (three at home) and three with Toronto. The Angels have one in Toronto this afternoon and then six at home, three with Oakland and three with Texas. Let's just say, hypothetically speaking, the Red Sox go 3–3, which, by the way, would be a far worse winning percentage than they've put up this season. The Rays and Angels have to go 6–1 just to tie them. Go 4–2, and the Rays and Angels can't lose at all.
It's fun to make fun of the Sox and their crazy, insufferably-cocky-when-winning-and-insufferably-whiny-when-losing fans. But you're probably gonna see them in the playoffs next weekend, and you very well might see them in the ALCS in three weeks. So let's all settle down. The Red Sox are far, far from done.
But don't tell their fans that. It's funny to watch them freak out.