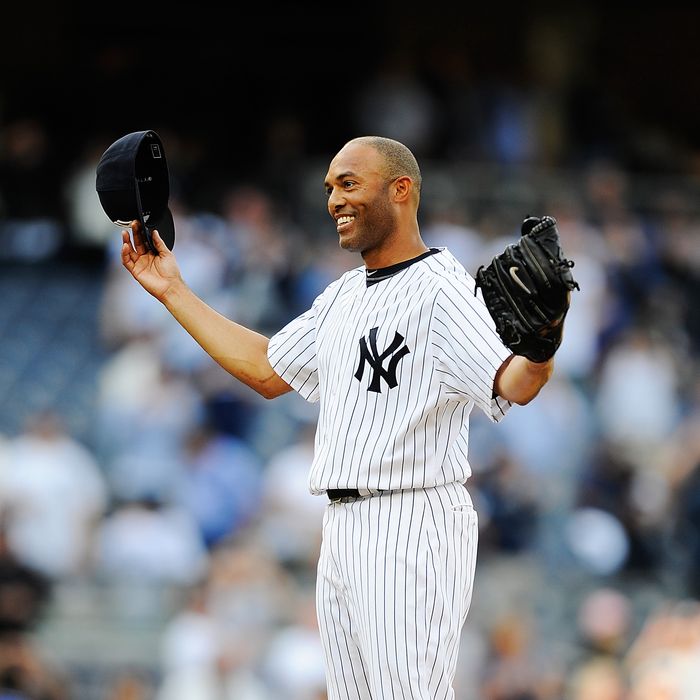 First of all, the Yankees won yesterday, which was splendid. Curtis Granderson and friends swung with gusto early on, and A.J. Burnett was kind enough to grant the Twins a few runs and set the table for a momentous save opportunity. Their 6–4 win in the makeup game, combined with Boston's split of a doubleheader, increased their division lead to five games. Heading into a final stretch of three games against the Red Sox and seven against the fast-rising Rays, every little fraction of a buffer is much appreciated. So, that's all good.
But, yeah, Mariano Rivera summited the record books last night, and he's unlikely to be usurped atop that list for a long, long time. As if it wasn't already the case, Rivera's name will be invoked every time the conversation turns to closers and saves from now into eternity. Mo, every bit as warm, reserved, and pious — not to mention dominant — as he was almost two decades ago, is the kind of guy whose name you don't mind repeating. Last night and today, it's been rightfully echoing off every surface of these Internets. Let's see what folks with computers are saying.
First, a word from Pinstripe Alley on Rivera's nearly flawless path to 602:
To me, what is so impressive about Rivera is the near perfection of his career. After moving to the bullpen in 1996, the worst season was likely 2007 when he posted a 3.15 ERA and 30 saves. He has posted an ERA below 2.00 nine times in his career, and with a 1.98 ERA in 2011, he's making a push for another. When you also consider the fact that Rivera pitched his entire career in a tough AL East and through a steroid-fueled high run environment, his body of work becomes truly transcendent. 
His body of work is so excellent, in fact, that it's pretty much unassailable by stat geeks and laypeople alike. Nobody you ask, including the man he overtook and the batters he befuddled, can deny it. He's so good that a song he doesn't even like that much will be retired once he's gone. So good that they're including him in the "Greatest Yankee of All-Time" conversation. So good that fans cheered when the Yankees ground into an inning-ending double play. So good, but still so modest, so far from done, so masterful at a single maneuver, so … beardless.
Once again, congratulations to Mariano Rivera. Now let's see if he and the Yankees can use this head of steam to plow through Rays and Sox and into a momentous postseason. 603 and beyond will most certainly be part of the equation.