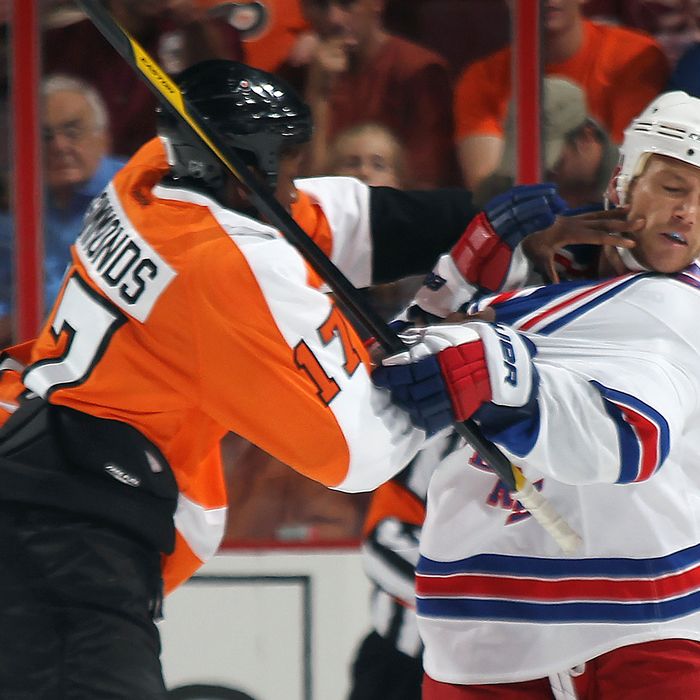 Wayne Simmonds and Sean Avery last night.
Last night, Sean Avery said that Philadelphia Flyer Wayne Simmonds directed a homophobic slur at him during the first period of the Flyers'$2 5-3 preseason win over the Rangers. A video clip appears to confirm it, and when questioned by reporters after the game, Simmonds didn't deny using the slur. (Said Simmonds: "He said some things that I didn't like, and I said some things that he didn't like. But I can't recall every single word I said.") Simmonds said that he felt Avery had sucker punched him, and that they exchanged words with each other. Avery, who voiced his support for gay marriage earlier this year, said he didn't say anything to Simmonds last night that could have provoked such a response.

It was just last week that Simmonds, who is black, was involved in an ugly incident in London, Ontario, in which a spectator threw a banana peel on the ice. You can read the transcript of both his and Avery's remarks to reporters here.
Prior to this incident, the story of the day was the official announcement that the Rangers and Flyers will meet in this season's Winter Classic, as well as the confirmation that HBO will once again air its behind-the-scenes 24/7 series during the lead up to the game. As Puck Daddy has already pointed out, as compelling as the series is, a controversial, over-the-line comment like this one would likely wind up on the cutting room floor. And so among other things, perhaps this serves as a reminder that if fans were truly given all-access to professional sports and the athletes that play them, we might not like what we'd hear.
Here's that video clip from last night, if you'd like to see for yourself: