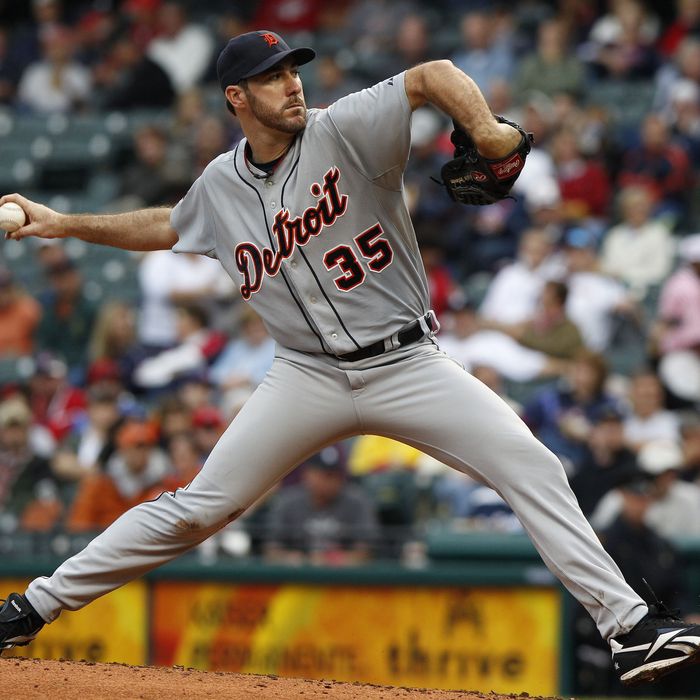 Let's be clear right up top: Justin Verlander isn't the only reason the Tigers present a real challenge to the Yankees in the ALDS. He's not even the only scary pitcher in Detroit's rotation these days: Doug Fister has been outstanding since coming over from Seattle mid-season. Having said that, Verlander is still the biggest reason that no team would look forward to facing Detroit in a best-of-five series. Jim Leyland has already said that Verlander, surely this year's American League Cy Young winner, won't pitch on short rest in this series, but what can the Yankees look forward to in Game One, and potentially in Game Five? And are there any reasons not to be intimidated by someone who just won the pitching triple crown?
Here's what the current Yankees have done against Verlander in their careers, including the playoffs:

You'll notice that Jorge Posada's numbers are especially solid, and though Joe Girardi plans to use Posada as the designated hitter against everyone in Detroit's all-righty-rotation, surely his trusty binder has told him that Posada's held his own against the Tigers' ace. Meanwhile, Mark Teixeira and Robinson Cano's numbers are especially poor against Verlander.

Actually, Verlander hardly dominated the Yankees in his two starts against them this year. He faced them on Opening Day in New York on March 31, and then again on May 1 in Detroit, and his lines were pretty similar in both outings: six innings pitched, three earned runs, eight strikeouts, and four walks. (In his start in New York, he allowed three hits, one of which was a home run; in Detroit, he surrendered eight hits.)
If you were to rank his 34 starts this season using his game score — a metric developed by Bill James that measures how well a pitcher performed in a given game — his two starts against the Yankees come in 25th and 29th. Here's the thing, though: Verlander faced the Yankees fairly early in the season, before his year really took off. (His ERA would drop below 3.00 for good on June 9.)
For what it's worth — and we're not sure it's worth much, for reasons we'll explain in a moment — Verlander's postseason numbers aren't very good. He's 1-2 in four starts, with a 5.82 ERA and a 1.662 WHIP. (He earned a no-decision in his 2006 ALDS start against the Yankees.) All four of those starts, however, came during Verlander's rookie year. He won the A.L. Rookie of the Year award that season. But he's gotten even better in the five years since, and he's at the top of his game right now.