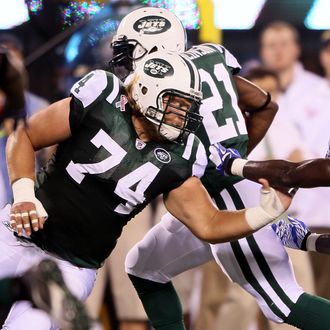 Though they made quick work of the Jaguars, the Jets could not survive Sunday unscathed. They sustained a couple of injuries to key players, though thankfully neither sounds too grave. First and most important, Nick Mangold, the rock of the Jets' offensive line, suffered a high ankle sprain in the first quarter of the win. He may have to miss his first NFL game, and possibly more.
Out of respect for Mangold, who told the coaches he wants to play, Ryan refused to rule him out for Sunday in Oakland. But the Jets' coach acknowledged: "He's very iffy. I don't think it looks very good as far as him playing."The Jets probably will make it official before leaving Friday for the West Coast.

Mangold is expected to miss at least two games, according to a source. The team is bracing for the possibility he could miss up to a month, another source said. 
"Up to a month" when your backup is sidelined for several weeks and the next guy in line is an undrafted rookie (Colin Baxter, who actually did a decent job in Sunday's latter three quarters) is a bit of a pickle. Baxter has his work cut out for him, though exactly how much work that is remains to be seen, pending Mangold's official prognosis. That's not all, though!

Somewhere, Mark Sanchez is reading the above news and grumpily rubbing his sore arm (he could just as easily be eating a tomato or something, but that's what we imagine him doing right now). Sanchez stuck around into the fourth quarter of Sunday's blowout and, operating behind a newly depleted offensive line, sustained a bit of damage himself. Rex Ryan, who has since expressed regret for the decision, kept Sanchez in to log a few connections with the hitherto receptionless Plaxico Burress. Sanchez got drilled on a pass attempt and came away with a bruised throwing arm. No tests were done, nor is there any doubt that Sanchez is healthy enough to play. With the O-line situation getting dicey, though, one can only hope that he manages to avoid further severe hits. Be it Baxter, Mangold, or an incoming free agent, somebody's got to keep those meddling nose tackles from bruising Sanchez any more. And it's not going to be me. Don't even look at me. I haven't snapped a football since '68 and you know that.