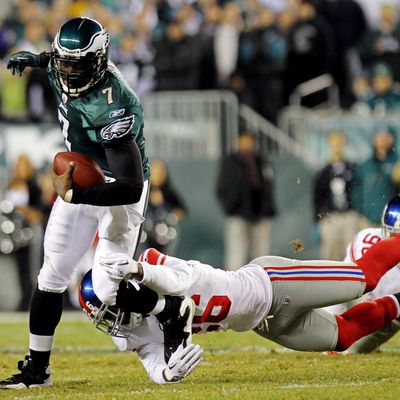 If the Giants had their entire roster healthy and ready to play on Sunday, they'd still have trouble beating this Eagles team on the road. And as you might have heard, the Giants' entire roster is not healthy. (We're pretty sure that two members of the defense tore their ACLs as we typed this sentence.) Big things are expected of the Eagles this season, while with every bit of Giants injury news, it gets harder and harder to remain optimistic about a team that, in the standings at least, could be in worse shape with a 1-1 record.
The Eagles had an injury scare last week, as well, when Michael Vick suffered a concussion against the Falcons, pressing Mike Kafka into service for the first time in his career. But don't expect to see a backup quarterback on Sunday: Vick returned to practice yesterday, and though he's officially listed as questionable, he said today that "There's no reason to think I won't play." The Giants' defense just can't catch a break, can they? (Actually, maybe we shouldn't say that, lest someone actually break a bone between now and Sunday.)
Meanwhile, Mario Manningham — also out with a concussion — has not practiced this week, and is listed as doubtful. (On a somewhat related note, with Domenik Hixon done for the year, let's all welcome back Michael Clayton.) 
Look, the Giants aren't expected to win this game, so a loss doesn't necessarily say much about where their season is headed. It's the crucial weeks that follow where the Giants will need to accumulate wins if they want to stay relevant. Plus there's always this: If the Giants do somehow win on Sunday — if what's left of the Giants offense starts to really jell, and if Vick isn't 100 percent, and if Nnamdi Asomugha, we dunno,  gets lost on the way to the stadium — it would give the Giants a much-needed boost in a season that's thus far been filled with a lot of bad news. And if the Giants don't win, at least it can't possibly be harder to watch than their last loss to the Eagles. We don't think that's possible.