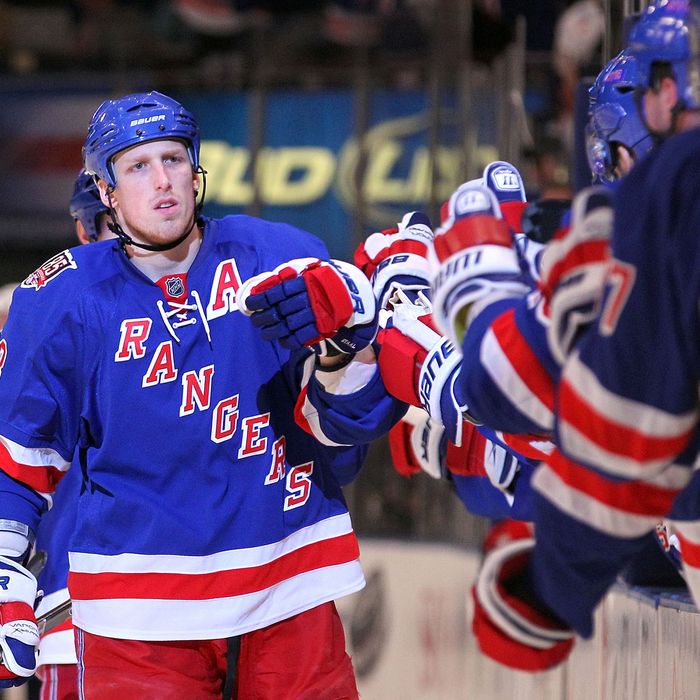 On February 22nd, the Rangers' Marc Staal got leveled by his older brother, Eric Staal of the Hurricanes. Many months later, the younger Staal is still feeling the effects of the hit. At the time, the possibility of a concussion was downplayed, but Staal's summertime training was interrupted by some well-known signs:
Although Staal passed baseline tests both last season and heading into this week's training camp, the 24-year-old experienced headaches during his offseason training.

"As he was working out this summer, he talked to (head athletic trainer Jim Ramsay) and said it was still there a little bit," Tortorella said. 
That's enough to sound the alarm, and considering the NHL's recent history and current relationship with concussions, the Rangers are going to be exceedingly careful with their prized defenseman.

The Rangers have training camp scrimmages coming up, followed by a few North American exhibition games. They then head to Europe, where they will eventually begin their regular season. To be safe, the Rangers will reportedly withhold Staal from all of the stateside stuff. What happens on the Europe trip remains to be seen. From the Post:
And while John Tortorella described the approach as "cautious" and "precautionary," the Rangers coach admitted he is in no position to guarantee Staal would be available for the Oct. 7 regular season-opener in Stockholm, Sweden, against the Kings.

"I can't say, 'Yeah, he'll play,' " Tortorella said of his invaluable first-pair defenseman, who did go through the initial two days of rigorous on-ice testing and participated in all of yesterday's drills. "It's [post-concussion ramifications] out there; it's well-chronicled.
Indeed, taking the tales of Sidney Crosby, Marc Savard, and others as precedent, it's in New York's best interest to be extra careful with Staal. These problems have the potential to end careers, so even in Staal's relatively mild case, it's reassuring to hear that nobody's going to rush him. You can't be too careful with a head.