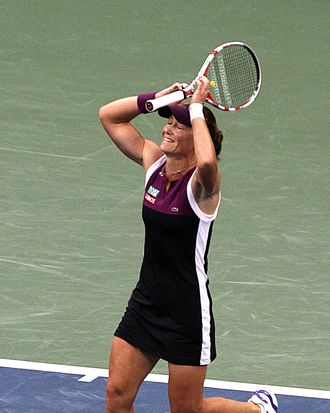 It's OK, no one else had heard of her either.
If 2011 has taught tennis fans anything, it's that the most effective way to predict a Grand Slam champion on the women's tour is as follows: Do extensive research about who's playing the best recently, who in the draw has already won a Slam, and who all the experts have chosen as their top picks, write it all down on a piece of paper … then burn it and just chose a random player. Your odds of being right are better that way. Li Na won the French Open. Petra Kvitova won Wimbledon. And now, Samantha Stosur has claimed the U.S. Open after defeating the overwhelming favorite Serena Williams.
All three first-time winners this year are fantastic players, but not a single one was considered a legitimate contender in the lead up. And to be fair, Stosur has been to a Slam final before (at the French Open in 2010), but that was just as much a surprise then as her victory in Flushing is now. To illustrate: She quietly made her way to the final yesterday having never played on the center court of Arthur Ashe Stadium during the tournament. In fact, her semifinal on Saturday night was played on the Grandstand (essentially Court Three), and it was almost hidden, not broadcast live on U.S. TV. Perhaps this utter lack of expectations and attention relieved Stosur's muscular shoulders of the mental weight of the position she was in.
And let's speak of those muscles, shall we? Stosur is seemingly one of the few players who can match Williams's power. (In fact, the collective circumference of the biceps being flexed during the match perhaps rivals the men's final later today.) Stosur's mighty strength produced an unwaveringly solid performance. She dialed in her killer forehand and kick serve, which either kicked wide or awkwardly into the body, throughout the night, and she successfully charged the net whenever Williams was in a weak position. Her performance amounted to twenty winners (a third of her total points won) and a 73 percent success rate with points off her first serve. 
Williams, on the other hand, couldn't find her first serve, which is normally one of her greatest weapons. She hit far too many second serves, which Stosur repeatedly attacked, putting Williams on the defensive from stroke one. Williams was strangely tight, nervous, and almost comatose, and Stosur stunned her by breaking her twice to take the first set.
This being Serena at the U.S. Open, things couldn't end without some controversy. In the first game of the second set, Williams faced break points once again. While fighting one off, she hit a near winner with such conviction, she shouted "come on!" before Stosur got her racket on the ball. Although Stosur never could have returned it, the umpire declared the outburst an instance of hindrance. Instead of playing a let, as Williams felt was appropriate, the umpire awarded the point to Stosur, and thus, the game. 
Immediately, the atmosphere turned from torpid to tense, the crowd booing the decision for several moments as Stosur waited to serve. Although clearly fuming from the incident, Williams should've honestly thanked the umpire; she finally woke up and began playing more aggressively. She broke Stosur immediately, and it seemed for a bit that the Australian would lose her focus and edge. Ultimately, the episode didn't steal any heat from Stosur's metronomic performance, and she took out the clear-cut favorite in shocking straight sets.
It was another case of Williams receiving a penalty at an extremely inopportune time. In 2009, against Kim Clijsters, she had her infamous foot fault outburst, which cost her the match. (Here, too, Williams was issued a code violation for the verbal abuse she unleashed on the chair umpire during a changeover, which sounds a lot more exciting than it actually was.) But just like that instance with Clijsters, it would be unfair to say the ruling handed the opponent the victory. It would also do a great disservice to Stosur's superb performance to place too much importance on the incident. But unfortunately, with a ruling on her conduct supposedly coming later today, Williams's outburst will divert quite a bit of attention from the Aussie's first Slam title.
The men's final between Rafael Nadal and Novak Djokovic begins at 4 p.m. today.