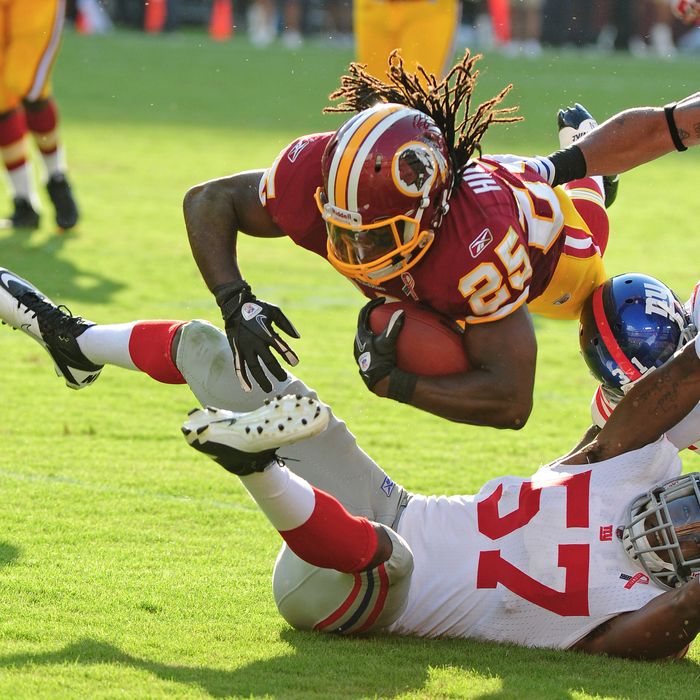 So the question this morning is this: Is Rex Grossman — who looked pretty darn good yesterday in a 28–14 Redskins win over the Giants, throwing for 305 yards, two touchdowns, and, perhaps most notably, no interceptions — a changed quarterback? Or did Grossman's day have more to do with the Giants' defense — one that was hit hard by injuries in the preseason and is especially thin in the secondary? Perhaps the true answer is that it's a little bit of both, but it's the latter that could prove to be a big problem for the Giants, especially early this season.
Which isn't to say that only the defense struggled against Washington: The offense never really jelled either. In fact, the Giants as a whole didn't look quite right yesterday: There was the interception Eli Manning threw just yards from his own end zone — one that gave Washington an early second-half lead. Later in the quarter, the Giants twice sacked Grossman and forced the Redskins to punt, but the Giants went three-and-out on the ensuing drive.
And on Washington's next drive, a Jason Pierre-Paul sack led to a Grossman fumble — and the ball was recovered by Michael Boley. But despite starting their drive at the Washington 27-yard line, the Giants couldn't get the ball in the end zone, instead settling for a 38-yard field goal attempt. It would only get worse:  That field-goal attempt was blocked. Perhaps the final dagger for the Giants: An Antrel Rolle personal foul that gave Washington a new set of downs on their next possession, and they'd eventually extend their lead to 28–14.
The Giants had given us all plenty of reasons to doubt them prior to Week One, so this is the kind of flat performance we feared. Of course, it's only one game, and we're confident that the offense, at least, is better than it looked yesterday. (One pleasant surprise: Big tight end Jake Ballard caught two passes for 59 yards.) But a look at the Giants' upcoming schedule makes next Monday's home opener against St. Louis seem pretty important. A loss to the Rams, and the Giants would be 0–2 heading into their game at Philadelphia.