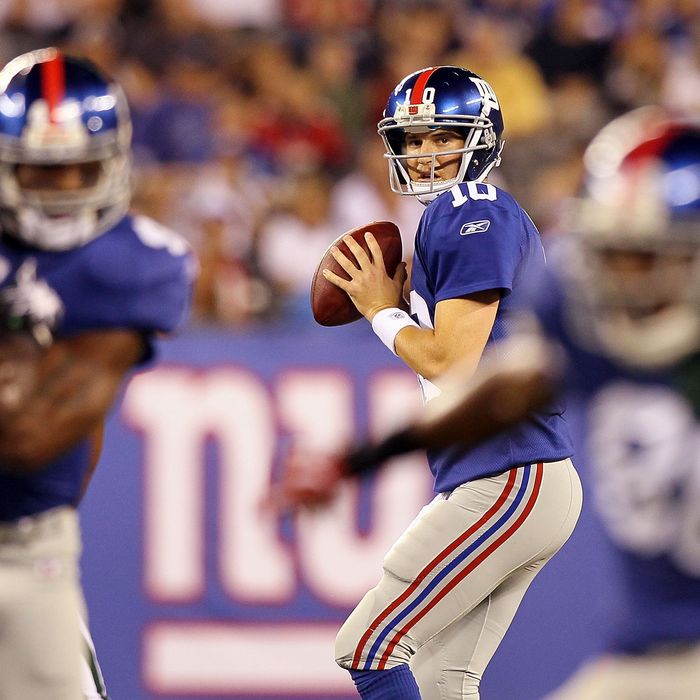 The interminable summer is over: The Jets and Giants begin their seasons this Sunday. We began our Giants preview yesterday with a look at some of the their free-agent acquisitions. Today: A week-by-week schedule breakdown, with predictions. (Why not, right?) Tomorrow: A look at What the 2011 Season Means.
The Giants have missed the playoffs in each of the past two seasons, and their last playoff win came on February 3, 2008. (Perhaps you remember that game?) Having said that, their 2010 season wasn't a total disaster: They finished with a respectable 10–6 record, but failed to secure one of the NFC Wild Cards. (Those late-season losses to the Eagles and Packers really cost them.) So after a preseason that saw far too many injuries, how will the 2011 season go? Here's a week-by-week preview.
Week One at Washington. The fact that this game pits New York against Washington on September 11 will dominate Sunday's broadcast, but on the field, the Giants and their thin secondary will take their chances against Redskins starter Rex Grossman. Giants win (1–0).
Week Two vs. St. Louis. Steve Spagnuolo returns to the Meadowlands to face his old team for the first time as head coach of the Rams, and though he left on fine terms, we're sure he'd love the Rams' defense to shut down Eli Manning in this one. Giants lose (1–1).
Week Three at Philadelphia. The Giants haven't beaten the Eagles since November of 2008, and we're not especially looking forward to seeing what Michael Vick and Philly's offense has in store for the Giants' banged-up defense. Giants lose (1–2).
Week Four at Arizona. This one takes place at the site of the greatest win in franchise history. Though unless Kevin Kolb gets hurt, it's unlikely we'll get to see the Sports Section's official favorite athlete, John Skelton, play against one of the local teams for the first time. Giants win (2–2).
Week Five vs. Seattle. Last year, the Giants crushed the Seahawks 41–7 in a game they led 35–0 at the half. And that game was in Seattle, where we worried the Giants would somehow be called for their first false start during the national anthem. This one's at the Meadowlands, against a Seahawks team that isn't expected to do much with Tavaris Jackson as its quarterback. Giants win (3–2).
Week Six vs. Buffalo. The Bills might not be bad defensively, but nonetheless, this is perhaps the easiest stretch of the Giants' schedule. Giants win (4–2).
Week Seven (bye). The way things have been going in the preseason, we look forward to a week in which, fingers crossed, we won't have to worry about someone getting injured.
Week Eight vs. Miami. We're pretty sure it's written into the collective bargaining agreement that the Giants must start the season at least 5–2, regardless of whether they go on to win the Super Bowl, miss the playoffs, or finish somewhere in between. Giants win (5–2).
Week Nine at New England. For what it's worth, the Giants beat the Pats in their final preseason game last week. Unfortunately, that's not really worth anything. Giants lose (5–3).
Week Ten at San Francisco. The 49ers haven't finished above .500 in nearly a decade, and new coach Jim Harbaugh hopes to turn that around. But we're not sure it'll happen this year. Giants win (6–3).
Week Eleven vs. Philadelphia. They Giants have to beat the Eagles eventually, right? Giants win (7–3).
Week Twelve at New Orleans. We're still embarrassed for getting so excited over the Giants' last game in New Orleans back in 2009, when both teams entered the Week Six game undefeated. (The Saints routed the Giants 48–27, went on to start the season 13–0, and eventually won the Super Bowl. The Giants, meanwhile, missed the playoffs.) Giants lose (7–4).
Week Thirteen vs. Green Bay. Last year, Aaron Rodgers torched the Giants in a critical Week Sixteen match-up, and even though this time the teams will meet at the Meadowlands, it wouldn't surprise us if he did it again. Giants lose (7–5).
Week Fourteen at Dallas. Finally, the Giants face the Cowboys for the first time in 2011. They'll play them again in Week Seventeen, and though Rob Ryan might improve them on defense, we think the Giants will split their season series with Dallas. But they won't win this one. Giants lose (7–6).
Week Fifteen vs Washington. Last year, the Giants helped keep their playoff hopes alive by beating Washington twice in the final five weeks. At home against the Redskins, we think they'll keep their 2011 playoffs hopes alive with a win here, as well. Giants win (8–6).
Week Sixteen at the Jets. Plaxico Burress against his former team — we wonder if the Fox crew will find the time to slip in a mention of that at some point during the broadcast? In all seriousness though, while the Jets might be playing for their postseason seed at this point in the season, this game could go a long way toward determining whether the Giants get into the playoffs at all. And if this game does prove meaningful for both teams, we can't even fathom how much talking Rex Ryan will do in the week leading up to it. We fear, though, that his team will be able to back up all the talk. Giants lose (8–7).
Week Seventeen vs. Dallas. It's possible that this game won't mean much for the Giants, but if a playoff berth is within reach, expect one hell of a fired up MetLife Stadium crowd on New Year's Day. Giants win (9–7).