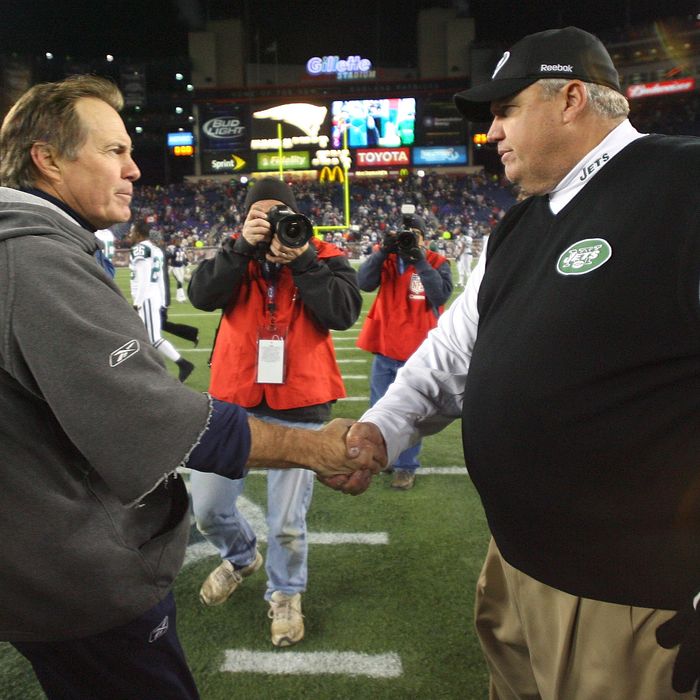 The interminable summer is over: The NFL season begins this Sunday. We began our preview of the local 53s yesterday with a look at the Jets' most significant new players. Today: A week-by-week schedule breakdown, with predictions. (Oh, why not?) Tomorrow: A look at What the 2011 Season Means.

In his first two years as HC of the NYJ, Rex Ryan has taken his team to the AFC Championship Game twice. That's pretty amazing — in the first 48 years of their existence, the Jets made the conference title game three times; in the next two years, twice — so it can be easy to forget that the Jets haven't actually won the AFC East yet, settling for the wild-card two years in a row. In fact, the Jets as a franchise have never won more than twelve games, and twelve is a total they've only reached once (the 1998 Bill Parcells team that lost to the Broncos in the AFC title game). Is this the year they finally grab thirteen wins? Let's take a cursory week-by-week glance.
Week One vs. Dallas. The Cowboys think this is the year they break through, but they always think that. The only sad part about this one is that it's at MetLife Stadium, meaning we won't get to watch Jerry Jones grimacing — or whatever it is he does with that face — from the luxury box. (Also: You might want to watch this one with the sound down. The September 11 references on NBC's prime-time telecast are going to be too much to take.) Jets win (1–0).
Week Two vs. Jacksonville. Quarterback Luke McCown. Jets win (2–0).
Week Three at Oakland. The Raiders should be a little better this year than many suspect; if the Chargers falter, they're our pick to win the AFC West. And this is precisely the type of game they need to win to make it. The annual game-the-Jets-lose-to-worry-everybody comes a little early this year. Jets lose (2–1).
Week Four at Baltimore. The Ravens are due for a down year themselves, but they'll be ready to face their old defensive coordinator — again — in this one. Jets lose (2–2).
Week Five at New England. Everyone's panicked. The Jets, the big and mighty and brash Jets, are in serious danger of falling under .500 midway through October, three games behind the Patriots before anyone has realized the season has even started. Mike Lupica writes five columns this week, about how Rex Ryan is All Talk, and Joe Namath pipes up about these not being "real" Jets, as he is wont to do. Then the Jets go out and play their best game of the year and wax the Patriots in Foxboro. Jets win (3–2).
Week Six vs. Miami. Chad Henne is somewhat underrated, particularly by Miami's own fans, but we think think the Dolphins are finishing last in the AFC East this year. Jets win (4–2).
Week Seven vs. San Diego. Man, the Jets have a tough schedule this year. That said, this is just about the time of the year when Norv Turner teams lose their last game before they wake up and sprint to the AFC West title. Jets win (5–2).
Week Eight (bye). We think this is the week Rex Ryan shows up on Saturday Night Live's Halloween episode.
Week Nine at Buffalo. The Bills are a tougher out this year than most realize, particularly with a defense that should improve and a quarterback who's better than anyone gives him credit for. They're sort of the Toronto Blue Jays of the AFC East. Of course, the Blue Jays never pass the Red Sox or the Yankees either. Jets win (6–2).
Week Ten vs. New England. Both teams are 6–2, and it's on NBC, and the Patriots are fired up for revenge for the loss earlier this season … and this time, they get it. It just sorta feels like these teams should split. Jets lose (6–3).
Week Eleven at Denver. Is Tim Tebow starting at this point for the Broncos? Man, we hope so. Jets win (7–3).
Week Twelve vs. Buffalo. At least no one has to spend Thanksgiving weekend in Buffalo. Jets win (8–3).
Week Thirteen at Washington. At some point this season, Redskins coach Mike Shanahan is going to lose it after a game, and a blood vessel is going to shoot out of his forehead and attack an unsuspecting reporter. This game sounds about right. Jets win (9–3).
Week Fourteen vs. Kansas City. This might be a little different in Arrowhead, but at home, with a tough finishing kick coming up, the Jets handle this one. Jets win (10-3).
Week Fifteen at Philadelphia. It's extremely likely that the Eagles team in Week Fifteen is far different than the Eagles team right now. Will Michael Vick still be playing? We say yes, but even if he's not, we're due for a Vince Young redemption storyline anyway. Jets lose (10–4).
Week Sixteen vs. NY Giants. We don't want to upset Giants fans here … but our guess is that this game means a lot more to the Jets than it does to the Giants. Jets win (11–4).
Week Seventeen at Miami. Will this game matter? The Patriots and Bills play at the same time in Foxboro, and we have the two teams tied in the standings. Here's guessing Rex rests his starters just to be safe … and then Joe McKnight runs for 174 yards and the Jets win anyway. Jets win (12–4).
And it turns out none of it matters anyway, because the Jets and Patriots are due to meet in the AFC Championship Game at some point, so it might as well be this year.