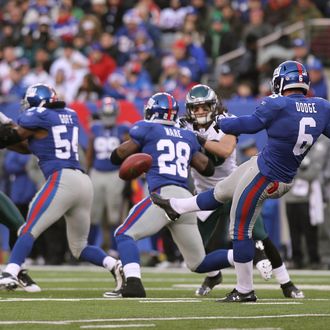 The NFL preseason ends this week, and the Jets and Giants both take the field this evening to log their final minutes of meaningless football. Both teams play at 7:30 p.m. tonight, each having received just a few days of rest after Hurricane Irene postponed their intramural battle until Monday. That being the case (and even if it wasn't the case, one would guess), we won't be seeing much of the starters as the Giants hit New England and the Jets face the Eagles at MetLife Stadium. In their place, hordes of fringe players will take the field, many campaigning for a regular job. Read on for a look at the remaining position battles and those trying to make each roster, or at least the practice squads.
The Giants have a few starting positions still up for grabs. The search for a tight end hasn't produced any obvious winners according to the experts, with Travis Beckum not playing up to the potential that once made him a third-round pick, Jake Ballard probably still too unproven, and Bear Pascoe possibly saying at fullback. The punter battle between Steve Weatherford and Matt Dodge remains heated. Elsewhere, David Carr and Sage Rosenfels are still grappling for the backup quarterback slot, while several young running backs and linebackers look to make the cut. The most comprehensive list of position battles at each level can be found here.
The Jets are much more certain of their first string, but still have plenty of guys on the verge of making the cut. Gathered from the Post and the Jets blog Gang Green Nation, here's a rough list of fringe guys worth watching tonight: running back Bilal Powell, offensive lineman Kenrick Ellis, defensive linemen Jarron Gilbert and Garrett McIntyre,  linebackers Aaron Maybin and Nick Bellore, and likely special teams guys Dan DePalma and Patrick Turner. Yes, that's a lot of people. Rich Cimini's breakdown might help clear things up.
So, while the big names will be absent, tonight's preseason finales will be tremendously important to some lesser names. Best of luck to all the bros on the brink. May you all make your respective teams thanks to a last-second rule change allowing rosters to carry infinite bros.