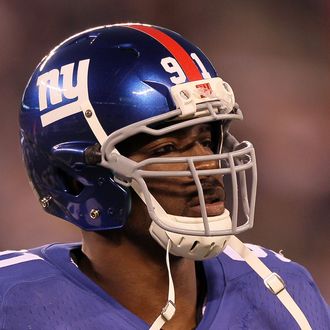 A week and a day after their disappointing season opener, the Giants are back at it tonight. Monday Night Football will see the Giants host the St. Louis Rams for their home opener at MetLife Stadium. Tom Coughlin's bros know full well what they need to do to avoid last week's fate. They need to run the ball more and more effectively. They need to get more out of their secondary. They need to maintain an aggressive pass rush. Of course, New York's success with a lot of the above will be affected by the presence or absence of certain personnel on both sides. To the injury report!
Both teams are pretty beat up, and both are pretty uncertain of how well staffed they'll be this evening. For the Giants, Hakeem Nicks and Justin Tuck, both of whom  sounded hopeful last week, are listed as "questionable" for tonight's game. On the other end, the Rams have listed running back Steven Jackson as "questionable", while Danny Amendola and his horribly mangled arm (do not click that link) are somehow listed as "doubtful". How there's even a fraction of hope there is beyond me. Sam Bradford, as has been reported, will be ready to go for the Rams. The quarterback's bruised right index finger won't keep him out of tonight's game, though he may or may not be dressed like Michael Jackson.
So there's the injury report. Are you ready for some football? Yeah? Exactly how much football are you ready for? Take some time to think it over. You have until 8:30.