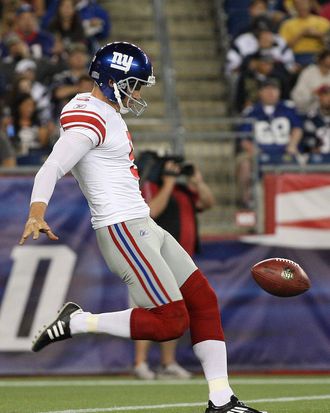 Most members of the media are allocating the majority of their column space and fun gun puns to the relationship between current Jet Plaxico Burress and his former employer, the Giants. Indeed, the promise of a Men's Journal interview in which Burress lambastes "Giants coach Tom Coughlin and quarterback Eli Manning as well as the team's management, fans who celebrated his incarceration and New York City Mayor Michael Bloomberg" is pretty juicy. The Plaxico thing is played out, though, guys. Jets–Giants won't really be a rivalry until — What's that? You don't say! Special teams beef!? Oh, it's on now. Via the Post, Jets special teams coach Mike Westhoff had some unfavorable things to say about punter (and notorious fake-punter) Steve Weatherford, who swapped teams with Burress this off-season (though, alas, they were not actually traded for one another):
Westhoff said Weatherford "wasn't good enough."

"I was very happy with Steve in some things he did and very, very disappointed in others," Westhoff said. "To tell you the truth, I don't want to be 23rd. I'm not 23rd in anything else."
"23rd", of course, refers to the Jets' ranking in yards per punt last season, and it's apparently not a ranking that Mike Westhoff likes (and we're talking about a guy who in 2010 was named the planet's 7,029th coolest "Mike" by Mikes Illustrated). Anyway, all this stuff should make the eventual Jets–Giants match-up a fun one.
Burress versus the Giants will be the main event, of course. Perhaps he'll talk some more trash between now and then. Either way, eyes aplenty will search for a little extra something from Burress, Manning, and the Giants as a team. Don't forget Weatherford, though. The punter, who beat out Matt Dodge for the Giants' spot, will undoubtedly have clippings like this one taped to his locker and/or forehead:
"I was disappointed in some of the poor performances that he had at the end of the year," Westhoff said. "It wasn't very good. You were there. You were up in New England? The ball went straight out (of bounds)… . There were times when he just didn't do the job.

That's rough. What remains to be seen is how a chip on one's shoulder translates to punting. Burress can exercise his wrath by making cool football catches and whatnot, but what can Weatherford do? Is giving the Jets poor field position a substantial enough retort? Might Weatherford attempt a fake punt, but take it to the house this time? You could cut all this special teams intrigue with a knife! And the Plaxico drama is cool, too, I guess. Can't wait till December!