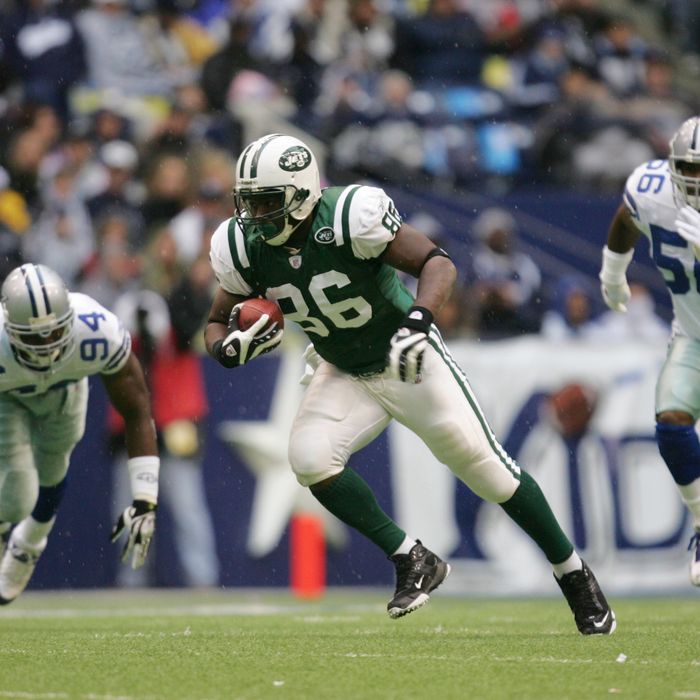 The Jets and Cowboys haven't played in four years, since these guys were on the team.
The interminable summer is over: The NFL season begins Sunday. We began our preview of the local 53s on Tuesday with a look at the Jets' most significant new players, continued Wednesday with a week-by-week schedule and predictions and looked yesterday at what this season means for Rex Ryan. Today: A preview of week one's game against the Dallas Cowboys. Then, Sunday, they actually play it.

In case you don't do this already, let us warn you in advance: You're really going to want to keep your television on mute this Sunday night. It's a nationally televised game, featuring the Jets, at home, against the Cowboys, at night, on September 11. There will be times when your audio will resemble this. We'd recommend trying to sync up the Jets radio feed. It'll be bad, but it won't be nearly as bad as what NBC will be doing. At least it isn't ESPN. It wouldn't have surprised me if those guys put Mike Tirico in camouflage.
Sunday night's Jets–Cowboys game will mark the first regular-season game at the newly christened MetLife Stadium, which could mean that Snoopy is going to play inside linebacker. It will also feature new Cowboys defensive coordinator Rob Ryan, who looks like his brother (except with long hair) and very well might have been hired for that reason. (His track record is not as impressive as his brother's.)
The game is considered by many a test for the Jets' secondary, particularly Antonio Cromartie on Dez Bryant (with Darrelle Revis presumably handling Miles Austin), but the most impressive part of the Cowboys' preseason has been the running of Felix Jones. But the Jets will win or lose this game, once again, based on Mark Sanchez's ability to avoid turnovers and make big plays when they're needed. In the red zone, we'll get our first test of whether or not Plaxico Burress is the capable big target the Jets have been trying to get for Sanchez for two-plus years now.
The Jets are favored in the game, but much is expected of the Cowboys this year. A loss in Game One for the Jets wouldn't necessarily be disastrous, with two winnable games following, but a win here positions the Jets for a 3–0 start heading into Baltimore in Week Four. More to the point: It shows the nation, on the sports' biggest stage, that the Jets, for the third straight year, are going to be in this until the very end. They will be contenders once more. We can't wait. Football's back. It's going to be nearly as much fun to watch as it will be not to listen to.