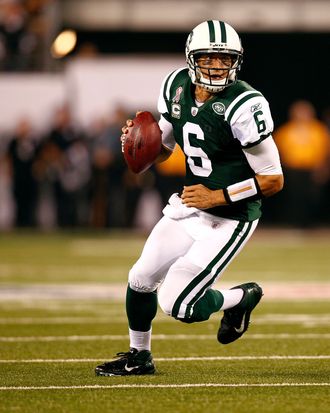 You can tell the Jets, and everyone who follows them and covers them, are still a little giddy after their win over the Cowboys last week. All anyone can think to do is nitpick. The defense had some alignment errors. The offense had trouble scoring in the first quarter. These Jets have never mauled Tony Eason. After that crazy win Sunday night, it's tough to get up for the Jacksonville Jaguars.
This isn't really an issue with the Jaguars, who are, after all, 1–0 just like the Jets. But the Jets schedule is so tough this year, and gets so tough so soon, that the Jaguars at home feels like a respite. The Jets are eight-and-a-half-point favorites, and there just isn't much anxiety about this one.
It's worth nothing that this is often when the Jets struggle or lose. (Remember, Rex Ryan has yet to defeat the Dolphins at home.) But you can nevertheless forgive Jets followers for saving a little mental space for the Ravens in a couple of weeks, and the Patriots right after.
That said, it'll look a lot nicer against those guys with a 3—0 mark, and if there's ever a time for the defense to re-assert its authority, it's against Jacksonville, a team with only one offensive threat, Maurice Jones-Drew, who is still recovering from knee surgery. (He, disturbingly, says it feels as good as if it was "fresh out of the womb.") But this is definitely an opportunity for the Jets to get Mark Sanchez a more consistent down-field game and perhaps even figure out what they have, after all, in Shonn Greene, a year later. The team has been attempting to make Greene its feature back since it drafted him, yet LaDainian Tomlinson, who is 94, keeps getting the ball.
The Jets have too many close games, partly by design. But it'd be nice to have one that's easy, for once.