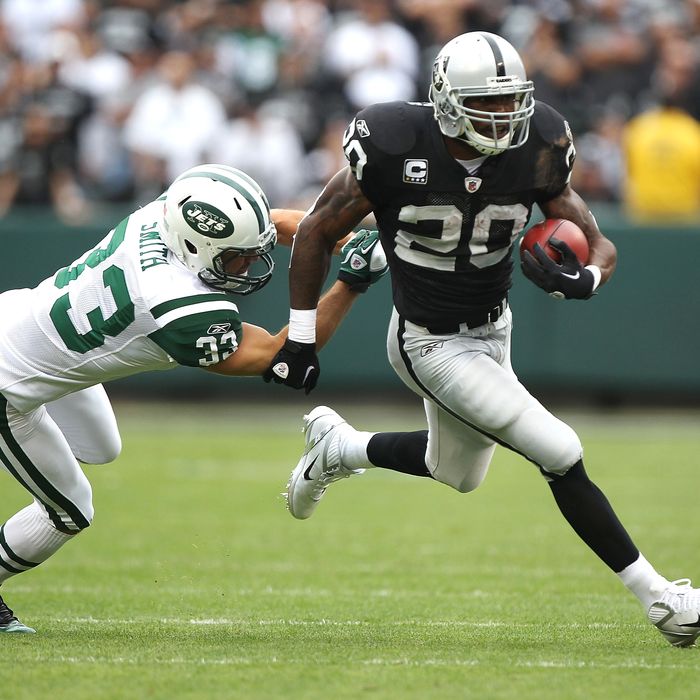 Rex Ryan's Jets pride themselves on their defense, and they'd like to continue to do so. With that in mind, events like last week's collapse in Oakland, in which Darren McFadden and friends regularly caught the Jets out of position and on their heels, must be few and far between. They head to Baltimore this week, former home of Ryan and a number of his players, and will be damned if they're going to let the Ravens rack up points the way the Raiders did. In the meantime, they've made all the requisite noise to drive that point home. It started at the top, with defensive coordinator Mike Pettine blastin' and lambastin' his charges for their negligence.
Said Pettine:
"You can handle technique mistakes, and sometimes guys just go against somebody who's better and you come up short, but when it's mental errors or it's a guy being lackadaisical or it's an effort thing … those are things we consider unacceptable," Pettine said Thursday.

"We have our standards of play and, when we don't play up to them from an effort standpoint, that's the most troubling. It's certainly something we talked about Monday when we watched the tape."
That's an oft-invoked line of thinking from coaches. "If we're losing because my team's players are worse than the other team's players, then there's nothing we can do about that, but if we're losing because everybody's acting like a butt-head and making stupid butt-head mistakes, then that's very bad and it makes me sad," is probably something that Vince Lombardi said, albeit in his own words.
Erasing stupid butt-head mistakes is a point of emphasis for pretty much every tier of the defense. New York was disappointed enough in their pass rush against the Raiders that they felt it necessary to add Aaron Maybin back into the mix. He may or may not play, but something must change to ensure that Joe Flacco feels pressure. The rush defense must be sharper, too, as Ray Rice would happily gobble up the same opportunities that Darren McFadden (171 yards) did last week. And in the air, the Jets must keep track of both Anquan Boldin, the stalwart, and Torrey Smith, the rookie receiver who looked much better last week against the Rams (five catches, 152 yards, three touchdowns) than he did against that minor earthquake last month. It remains to be seen how the New York corners match up with Boldin and Smith, though it's probably an easy choice. Gang Green Nation expects Darrelle Revis, not the recovering Antonio Cromartie, to take Boldin. Cromartie, for his part, isn't scared of either of 'em, injured lung be damned. 
So, words have been said and moves made in hopes of empowering an unusually sluggish Jets defense. Their task on Sunday is to stifle those familiar Ravens so thoroughly that we all forget the Raiders game even happened.