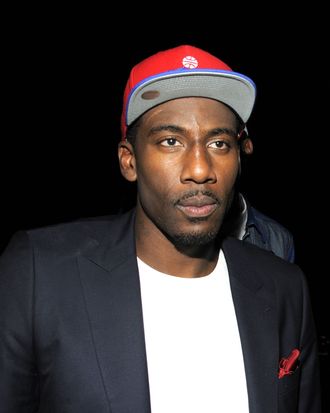 First, a detour: A lot of folks are acting, writing, tweeting, and stockpiling canned goods as if the NBA lockout will erode at least some part of the NBA season. A summer's worth of grumbling from all parties has fans prepared for an abbreviated schedule, if not an entire year of despair and tearful video gaming. On the other hand, veteran NBA reporter Chris Sheridan launched his own website today. It's encouraging enough that a basketball guy like Sheridan would feel comfortable venturing out on his own in these uncertain times. Sheridan went beyond that, though, by issuing a remarkably optimistic view of the lockout situation with his first post. Basically, he says that the owners and players are much closer in their negotiations than we've been told, and there's actually a decent chance that everything gets settled in time for the season to take place unabridged. It's a brilliant way to launch a website, really, telling folks exactly what they want to hear. [Intermission while I register "YouAreHandsomeAndTodayIsChristmas.net".] Sheridan's piece could be misguided, but it's too late for this fan. I've chosen my reality and it's quite sunny. If you're not convinced, come on by my place. I'm reselling all these canned beans at wholesale prices.
Anyway, you can count Amar'e Stoudemire and the Knicks among those preparing for the worst. Whether you believe Sheridan or not, that could be a great thing.
There had been rumblings over the last few months that Stoudemire and/or Carmelo Anthony would gather the Knicks ("Knicks", I suppose, since the miraculous lockout resolution hasn't arrived just yet) for an unofficial training camp of sorts. And indeed, it will happen. Over the weekend, the distinguished Alan Hahn revealed the details:
If the NBA and NBPA can't come to an agreement in time to preserve the regularly-scheduled training camp, Stoudemire has organized a minicamp at the IMG Basketball facility in Bradenton, Fla. The camp is scheduled to run from Oct. 19 to Nov. 6.

According to several players, the Knicks' captain sent out emails about the plan to all 10 players under contract for 2011-12, plus draft picks Iman Shumpert (who is already working out at IMG) and Josh Harrellson and a few free agents from the 2010-11 roster. Center Jerome Jordan signed with a team in Slovenia (with an NBA out), so he will likely not be available to attend a workout unless the lockout is resolved. 
The caveat, as Hahn mentions, is that no Knick staff members may be present to provide coaching, training, or intermittent dance routines. Still, this is pretty awesome in a couple of ways. First and most importantly, professional basketball players are sending out group e-mails. Did Amar'e have to sift through his contacts, or do the Knicks have a Google Group set up? Did Amar'e write the e-mail's subject line in all caps? Did Renaldo Balkman reply to everybody at five in the morning with a video of a capybara eating a Popsicle? Did Anthony Carter miss the invitation entirely because he converted his laptop into a cheese tray and never opens it? I assure you that at least one of these things happened, and that's wonderful.
Additionally, this means that the Knicks are in touch. If the lockout drags on and this camp takes place, then whenever basketball returns, we'll be looking at a team that voluntarily took the time to convene, practice, tutor one another, and learn to get along. One of the nasty by-products of the deadline deal for Carmelo Anthony and friends (not to mention the injuries suffered thereafter) was a marked decrease in team chemistry. Even as they entered the playoffs, the Knicks were an asynchronous bunch. Now that there's finally ample time to cohere, it's a delight to see Stoudemire take the initiative to kick-start that process. It's most becoming of a captain. Of course, the alternative is that the Knicks are convening to plan and execute an elaborate juice heist at the nearby Tropicana plant. I think most of us also welcome that possibility with open arms.

If —  sorry, when — the lockout ends in the near future, the players-only camp will have to be shortened or canceled entirely. A formal training camp will take place, which will be excellent in its own right. We'll still have the knowledge that Stoudemire tried to spearhead some team bonding and that all the Knicks have been in touch. Mostly, we'll be overjoyed that a full season of NBA basketball is on the horizon. Hooray!