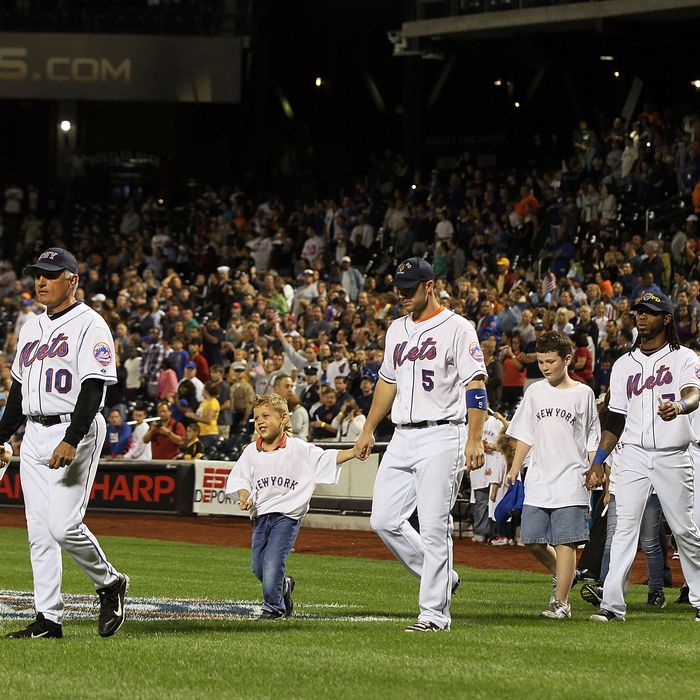 Ten years ago, days after the 9/11 attacks on New York, the Mets defied league edict and wore hats belonging to heroic first responders from the FDNY, NYPD, and PAPD onto the field of play. The league, despite the defiant display, levied no fines. On Sunday, the tragedy's tenth anniversary, the Mets were compelled once more to pay sartorial tribute to the first responders. Uniform policy hadn't changed, though, and after their requests were denied, the team opted to stand down this time and wear special hats only during pre-game ceremonies and in the dugout. A bit of a kerfuffle has resulted. While Mets players look for explanations and solutions to their hat dispute, the league office is rushing to clear things up, mostly because of stuff like this:
Josh Thole, the Mets' union rep, said he and the team were told that if the players defied MLB and wore FDNY, NYPD and Port Authority Police baseball caps, they would be punished with heavy fines.

"I believe that all the fines were going to be just crazy amounts," Thole said. "It was coming down from the top as if the fine to the ballclub was going to be significant, and that was something (where) nobody wanted to overstep the bounds there."
Not a good look for the commissioner, who was quick to go on damage control.
While Bud Selig reportedly had some strong private words for the Mets organization, league VP Joe Torre took to the airwaves to clear things up:
"Nothing was ordered," Torre said. "I think they were sent a memo, but in no way was it heavy-handed. I don't think money was ever an issue or they were ever threatened with a heavy-fisted fine. If that's the case, I have no knowledge of it."

The whole thing is a bit petty and beside the point, but it at least looks headed for a resolution. The report now is that Thole is in touch with the league about sanctioning a commemorative cap for anniversaries to come, which is probably the best solution at hand. The league feels understandably compelled to uphold policies, but if they can build in an exception and preordain a tribute that is acceptable to all parties, everybody can move on and avoid further dispute."Marketing and licensing" of the hats sounds a little off, but one hopes that it's just jargon for getting the MLB's stamp of approval and finding a worthwhile charity to which proceeds can be donated if the items go on sale.  In any event, the goal here is to honor some of the bravest individuals to ever grace the planet, and surely all involved would agree that bickering about hats isn't the best way to do that.