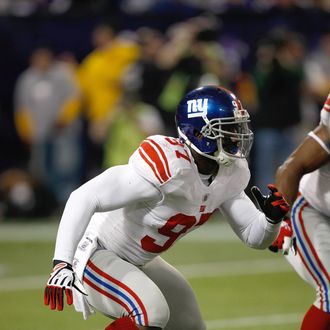 The Giants and Jets each wrapped up their preseasons last night. Rosters must be pared down to 53 men by Saturday, so both teams trotted out newbies and bench players for their final auditions. The Jets' JV squad registered a forgettable outing, losing 24–14 at home against the Eagles. The Giants, meanwhile, got a solid performance from David Carr and a bench full of plucky youngsters to come back and beat the Patriots in Foxboro. It wouldn't have been preseason without some injuries, though, and both games included some pain.
We'll start with the Jets, who managed to survive exhibition play without any major injuries to key cogs. That said, they were dealt somewhat of a blow in the second quarter of last night's loss when rookie quarterback Kevin McElroy popped his thumb (possibly all the way out) on a guard's helmet and had to leave the game. He'll undergo testing today to determine the extent of the damage and how soon he might return. The good news is that the Jets' other solid reserve option, veteran Mark Brunell, appears ready to return from a calf injury. So, no matter the outcome of McElroy's MRI, (McRI, if you will) the Jets should have at least one solid second-stringer in place behind Mark Sanchez when the regular season begins on the 11th. Fortunate.
The Giants aren't so fortunate. Their defense got even further depleted last night, with linebacker Clint Sintim experiencing yet another heartbreaking injury and premature end to his season. The 2009 second-rounder, who missed most of last year with an ACL injury, ruptured his patella and possibly re-tore the surgically repaired ligament in last night's third quarter. He joins Terrell Thomas, Bruce Johnson, Brian Witherspoon, and Marvin Austin on the Giants' frighteningly long list of preseason casualties. All the injuries, of course, open things up for the Giants, who now have plenty of vacancies to be filled by opportunistic youngsters. By tomorrow, we'll know who those youngsters will be. After that, the Jets and Giants will finally get around to playing some football that counts.