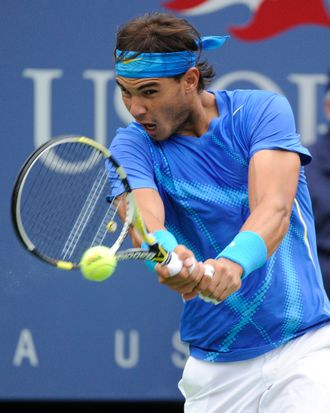 Only three matches began play at the U.S. Open yesterday, and none made it past four games before the rain snuffed them out. The weather instead provoked a day-long furor among players, media, and tournament officials regarding player rights and suitable conditions. (The term "union" was even thrown around a lot.) And amid all the controversy, it began to look more and more likely that the tournament will extend into next week for the fourth year in a row.  It was a rough day all around, but no one had it harder than tournament referee Brian Earley, who caught an earful from just about everybody.
The world should have known things wouldn't end well when Rafael Nadal showed up to the mouth of Arthur Ashe Stadium ten minutes late; apparently the ATP did a poor job of informing him when he was expected to start. "I'm not happy," Nadal said in his pre-match interview before walking out. Careful, guys: You wouldn't like him when he's not happy.
He and Gilles Muller began playing on a wet court, and Muller prodded the aggravated Nadal even further by breaking him for a 3–0 lead. The skies then opened up once again, and play was stopped. A similar scene unfolded on both Louis Armstrong and the Grandstand, the smaller courts where Andy Roddick and Andy Murray were both shoved as a result of the rain cancellations on Tuesday. Since the slightest bit of moisture on the slick lines can send an athlete tumbling to the ground, both men were concerned about the amount of water still on the court. Each consulted the umpire, and both were told that the conditions were sufficient for play. 
None of these matches lasted more than four games before it started raining again, something the USTA surely should have seen coming. After coming off court, Nadal beelined for Brian Earley's office to express his displeasure with being rushed onto an unacceptable court with the likelihood of coming right back off again. Both Murray and Roddick joined his crusade, and the media was whipped into a frenzy as ESPN caught portions of the conflict unfolding live.
"I think if it's up for discussion whether the court's playable, then that probably means it's not playable," Roddick said to Pam Shriver. "It was important for us to make it known that we didn't want to be put in that position again. It probably hits home a little more when there's three of us standing there instead of just one." (There were four in spirit, if you count Serena Williams's tweet of support, "Preach @RafaelNadal preach!", which was followed by the slightly less relevant, "My Fellow Booty Brother!!! #gobigbutts lol.")
About two hours later, the USTA released a statement that explained its decision to start play shortly after noon. "The best information available to us indicated the chance of a two-hour window without rain," it read. "Unfortunately, not all light rain and mist shows up on radar."
A two-hour window, you say? Why, that would conveniently be just enough action to keep the USTA from having to refund day-session tickets, as its inclement weather policy states only a full match or 90 minutes worth of tennis before 5 p.m. need to occur in order to consider the session "officially completed." This probably explains why Nadal supposedly said to Earley while coming off court, "All you think about is the money," a not-so-subtle inference that they were inappropriately rushed in order to make that time requirement.
If it weren't for the cancellations from the day before, Roddick, Murray, and Nadal would never be simultaneously starting the day session. But they were, and the sport's elite names were thus able to gang up and speak as one in a "watershed moment", according to Pat McEnroe. And so it was under these circumstances that the Super Tennis Friends began. Or, perhaps the beginnings of a player union, a concept that is evidently very close to brother John McEnroe's heart. During all of this, he schooled ESPN viewers on the history of player rights.
"We would have played 52 weeks a year if it was up to these tournaments and federations," McEnroe said. "Major events are more powerful than they've ever been, and they continue, I repeat continue, to push around the top players. They knew pretty darn well that they were going to be out there for a very very short period of time."
The tournament did seem pretty desperate to get the players on court, with staff members drying the surfaces with blowers and towels while it was still drizzling, as if they were willing the precipitation to stop. A "lingering rain delay" the USTA called it, and it taunted them throughout the session. The tournament didn't officially cancel the day's matches until after 5 pm, and they finally gave up on the women's quarterfinals that night after 8 p.m. As attendees left the grounds, however, it wasn't raining, and it didn't rain for almost an hour afterward. She can be infuriating, that mother nature.
Today's schedule is packed, but it may be pointless to discuss it as we're once again due for almost another entire day of rain.  At this rate, the tournament is unlikely to conclude on time, and unless it's significantly pushed back, some players could be in store for back-to-back matches. For the men, particularly those still stuck in the round of sixteen like Murray and Nadal, this could mean potential five setters four days in a row. Someone get Brian Earley a Tums.