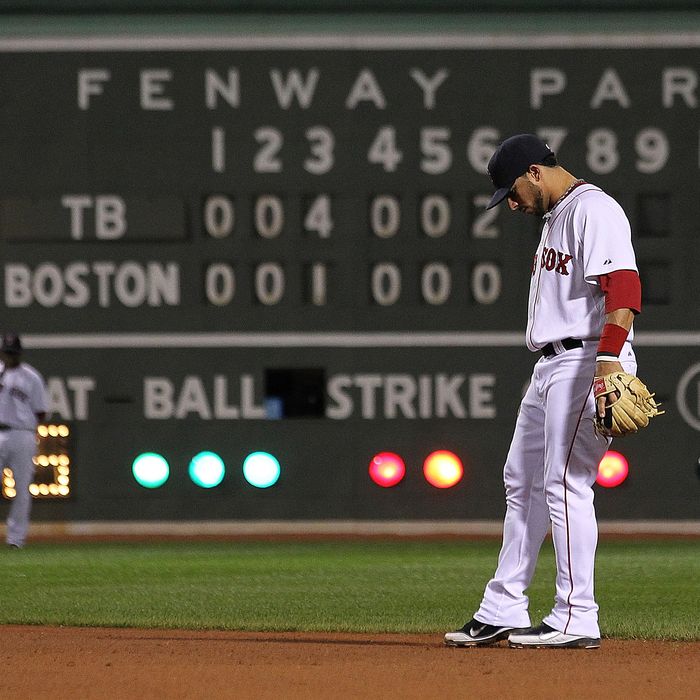 With two outs in the third inning of last night's Red Sox–Rays game at Fenway Park, B.J. Upton hit a ground ball to shortstop. But nothing for the Red Sox is routine these days, so in addition to the ball bouncing out toward short, the majority of Upton's broken bat also made its way toward Marco Scutaro, who was distracted enough that the ball got past him and into left field. The Rays scored the game's first run on the play, and the next batter, Evan Longoria, smacked a three-run homer to give Tampa Bay a 4–0 lead. That sequence pretty well sums up how things are going for Boston these days: After last night's 9–2 loss, they've now dropped seven out of eight and eleven out of fourteen.
Tampa Bay, meanwhile, has won nine out of twelve — a stretch that's included four wins in four tries over Boston. They're three games back in the Wild Card standings, and, for what it's worth, their playoff odds are up to 4.4 percent. (Yesterday, they were 1.6 percent.) Boston still has the easier schedule over the final two weeks of the season (fewer games against the Yankees; more games against the Orioles), so the Red Sox still have quite a bit more collapsing to do if the Rays are actually going to make the playoffs. (Boston badly needs need a strong outing from Josh Beckett in his return to the rotation tonight.) But the two teams have certainly combined to make this thing more interesting than we would have expected just a few weeks ago.
Last night's Red Sox loss, by the way, increased the idle Yankees' lead in the East to 4.5 games. Their magic number to eliminate Boston from the division race is down to ten.