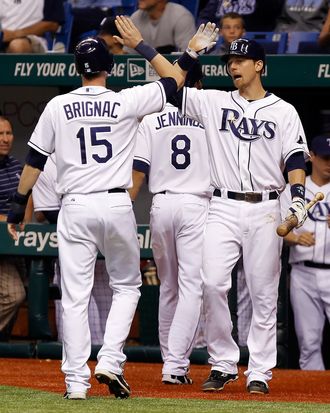 Reid Brignac and Ben Zobrist.
So maybe Jacoby Ellsbury's home run on Sunday night wasn't the momentum-changing blast that Red Sox fans had hoped it would be: With the Yankees loss in Tampa Bay last night, and Baltimore's win over Boston at Camden Yards, the Rays have pulled even with the Sox in the Wild Card standings. They've been inching closer for some time now, but this is still rather stunning.
Surely Boston fans don't need any additional reasons to worry at this point — what with their team's 6-19 record in September, and all — but we'll provide one anyway. A look at the standings would indicate that Boston has a much easier opponent this week in the Orioles. But not only has Buck Showalter's club been playing spoiler lately, Tampa Bay won't be exactly be facing the Yankees' best arms.
It's not so much a question of effort from Joe Girardi's club — we'll remind you that the Yankees took five out of seven from the Rays and Red Sox in recent days — but as Girardi gets his team ready for the ALDS opener on Friday, he'll be using pitchers with an eye toward resting arms that he'll need when the postseason begins. And so last night, with Phil Hughes working out of the bullpen, long man Hector Noesi got a start. Tonight, he'll send out Bartolo Colon — one of the Yankees usual starters, albeit one who's struggled mightily of late, and might have cost himself a postseason start in the process.
And tomorrow's starter is still officially listed as "To Be Announced," while Joe Girardi has indicated that it might be "a bullpen day." Needless to say, that doesn't mean nine innings of Rivera, Robertson, and Soriano. Tampa, meanwhile, will start Jeremy Hellickson and David Price in the final two games.
If a one-game playoff is needed to determine the Wild Card champion, by the way, it'll be played in played in Tampa Bay on Thursday, thanks to the Rays' 12-6 regular-season advantage over Boston.