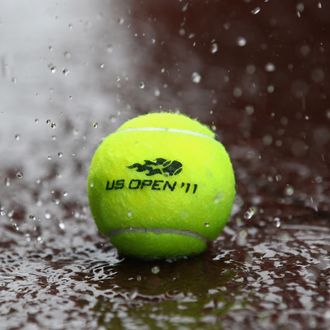 Hurricane Irene, that meddling maiden from the east, put a brake on sports this past weekend. By the work week, things were (mostly) ready to pick up as teams and fans around the area scrambled to clean up their homes and play some games. The Giants–Jets preseason matchup finally took place on Monday while the U.S. Open began with few delays, the Yankees were far enough away to sneak in a weekend game, and the Mets added another doubleheader to the schedule. Irene's longest-lasting effects were felt by the UConn–Fordham season opener and Bart Scott's poor, sweet fish. Other than a spate of rain delays and dead fish, what else happened?
The Yankees headlined the week with a pretty successful series against the Red Sox. There was a "brawl" of sorts during a CC Sabathia win, a decent effort but no win against Josh Beckett, and an enjoyable outing for Jesus Montero's big-league debut. The Mets, meanwhile, got a few guys back, but remained in a financial rut as the David Einhorn deal fell through. Elsewhere in Flushing, the slow-playing U.S. Open courts saw a number of notable ladies go down. Oh, and Novak Djokovic kept dropping bagels on folks.
The Jets beat the Giants in their postponed preseason affair, claiming a Snoopy trophy in the process. After that, both teams went on to wrap up their preseasons Thursday night, sustaining some injuries in the process.
And the Knicks? Well, there are no Knicks, but some folks who would otherwise be Knicks picked up basketballs for charity or for Youtube hits. Back in New York, the organization added a new lead assistant for whenever there is real basketball to be played.
And that's the week that was! Have a pleasant, labor-free (unless you're expecting, I guess) Labor Day weekend. Be careful with those grills.