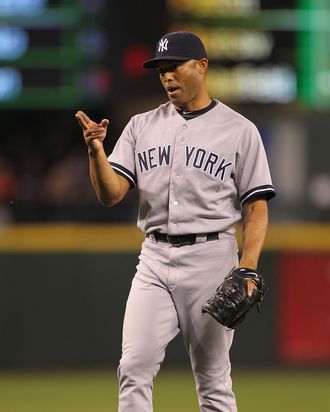 Mariano Rivera picked up his 600th career save this week, and he's now just two away from passing Trevor Hoffman and moving into first place on the all-time list. Rivera only pitched in one of the Yankees' three games in Seattle this week — they never led in one, and had too big a lead in another — and now it's onto Toronto, where the division-leading Yankees will look to lower their magic number even further. But what happened this week that didn't involve dreams of one day playing center field?
Samantha Stosur and Novak Djokovic were crowned U.S. Open champions.
The Jets won a wild game against Dallas on Sunday, while the Giants dropped their opener in Washington.
The Mets were mathematically eliminated from playoff contention, but not before hosting Star Wars Night on Tuesday.
The Staten Island Yankees won the New York–Penn League championship.
Major League Baseball released its tentative 2012 schedule.
Ryan Callahan was named captain of the Rangers.
Iman Shumpert impressed in Impact League play.
We wondered whether rookies Jesus Montero and Austin Romine could both make the Yankees' playoff roster.
We looked at what's next for Steve Lavin's three ineligible recruits.

And we spoke to Brad Richards about free agency and the team's upcoming trip to Europe.
That's it for us. Have a great weekend.