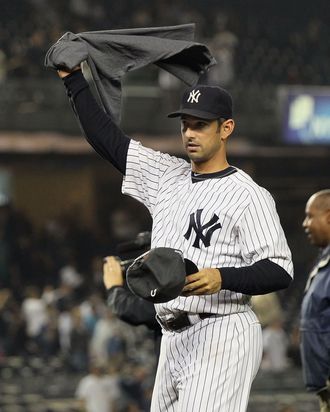 Wednesday was a big day for the Yankees: In the first game of a doubleheader against the Rays, they locked up their sixteenth playoff appearance in seventeen years. Then, in the nightcap, they clinched the American League East crown, thanks to a go-ahead single by Jorge Posada. (The Yankees did Boston quite the favor, by the way, by taking three games out of four from Tampa Bay.) But what happened this week that didn't involve Red Sox Nation rooting, temporarily, for the Yankees?
Mariano Rivera became baseball's all-time saves leader.
The Jets got an easy win against the Jaguars.
The Giants won their home opener against the Rams, but Domenik Hixon tore his ACL.
The Mets played spoiler with a late rally in St. Louis yesterday.
Sandy Alderson said the Mets are looking at changing Citi Field's dimensions.
The Rangers took no chances with Marc Staal, who experienced concussion-related symptoms during his summer training.
And with Syracuse and Pittsburgh jumping to the ACC, we looked at the future of the Big East Tournament.
That's it for us. Have a great weekend.