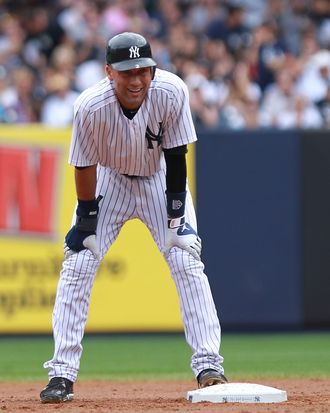 It was a strange week to be a Yankees fan: Over the course of just a few days, many have gone from rooting against their team (in hopes the Red Sox complete their epic collapse), to getting psyched for tonight's ALDS opener against Detroit. Sure, there are three other series this weekend, but New Yorkers will be focused on Yankee Stadium beginning tonight, when CC Sabathia takes on Justin Verlander in Game One. But what happened this week that didn't involve watching a video game play itself?
Jose Reyes won the N.L. batting title, but not without some controversy.
Speaking of Reyes, the Mets earned a legal victory this week, but still might lose their All-Star shortstop.
The Giants earned an impressive win in Philadelphia.
The Raiders reminded the Jets that there's still work to do, while Joe Namath kept on talking.
We learned that the Mets blocked the Yankees' AAA affiliate from playing a season in Newark.
Jay-Z announced at a press conference that when the Nets move to Brooklyn, they will indeed be called the Brooklyn Nets.
And we wondered if the critics of Derek Jeter's critics were right.
That's it for now, but we'll be back after tonight's game. First pitch, as if you need to be reminded, is at 8:37 p.m.