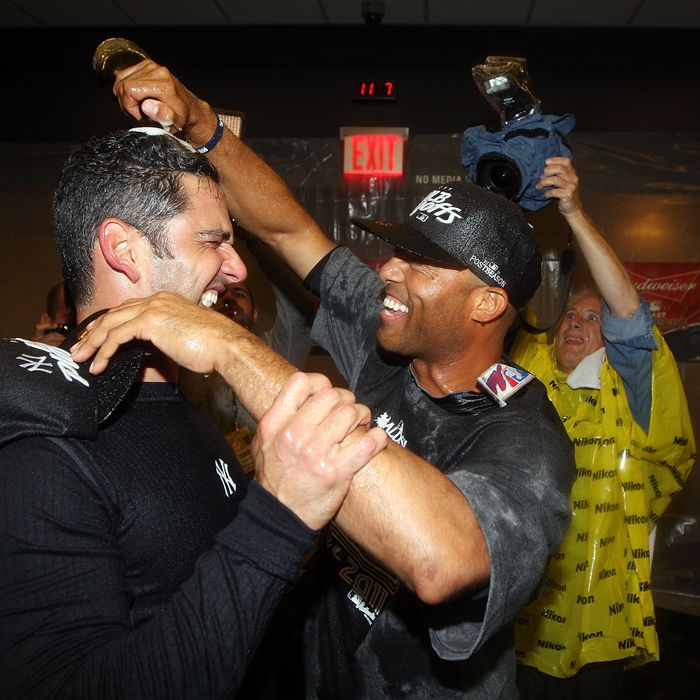 Jorge Posada and Mariano Rivera.
The Yankees began the day yesterday with a magic number of three to clinch the American League East crown, and that number had dropped to two by the time CC Sabathia threw his first pitch in the rain-delayed doubleheader nightcap at Yankee Stadium. And so even if a certain New England–based ball-club wasn't in the process of collapsing (more on them later today), the Yankees' second A.L. East title in three years was pretty much inevitable. Even if things didn't break just right for them to lower that magic number from three to zero in just one day yesterday, they'd have clinched tonight, or perhaps tomorrow, or maybe sometime over the weekend. The Rays are fighting for their playoff lives right now, but the Yankees are just rolling along until they clinch home-field and can take their foot off the pedal a bit. But having said all of that: That sure was a fun way to clinch a division title wasn't it?
We're a little hesitant to declare Jorge Posada's two-RBI single in the eighth inning last night — one that gave the Yankees a 4–2 lead they wouldn't relinquish — his last noteworthy accomplishment in pinstripes. After all, Joe Girardi sent Posada up to pinch hit for Jesus Montero last night, and under the right circumstances, one imagines he might do the same sort of thing in the playoffs. So it's not inconceivable that Posada will get a chance to bat in an important postseason situation this October. (You know, assuming he makes the playoff roster.)
But otherwise, yeah, that might have been Posada's last important hit as a Yankee, and the big smile he sported at first base afterward seemed to indicate that he enjoyed it every bit as much as Yankees fans did. (Actually, that smile could have been the result of something else: Posada admitted after the game that he thought it was the ninth inning, so he might have been laughing at the realization that what he thought was a ninth-inning walk-off single was actually an eighth-inning go-ahead single.)
Either way, it's been a rough season for Posada, who was bound to get huge ovations whenever he stepped on the field this weekend in what will likely be his final regular-season series in pinstripes. But now Posada's season has a signature on-field moment to counter the unpleasantness that went along with Girardi attempting to bat him ninth back in May. One imagines the cheers Posada hears from here on out this year will be a little bit louder now.
Next up for the Yankees, by the way: trying to secure home-field advantage throughout the American League playoffs — they have a five-game lead over both Detroit and Texas — and getting their rotation lined up for the playoffs. (They'll have to tweak things a bit to get CC Sabathia ready to start the playoff opener next Friday.) But considering their opponents for the remainder of the season — they play the Rays again tonight, then host the Red Sox, then visit Tampa Bay to close out the schedule — they'll also play a big part in determining this year's Wild Card winner. The playoffs begin in eight days, probably at Yankee Stadium against a still-to-be-determined opponent. Here's hoping the fun is just getting started.