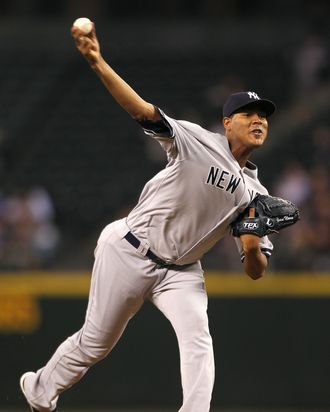 Ivan Nova threw seven and a third innings of one-run ball in his no-decision last night.
Here are a few things that didn't happen last night: The Yankees didn't win, nor did they ever have a lead in their 2–1 extra-innings loss to the Mariners, so Mariano Rivera didn't have a chance to pick up his 601st save and tie Trevor Hoffman on the all-time list. But since the Red Sox didn't win yesterday either, the Yankees didn't see their four-game lead in the A.L. East shrink.
And here's something the Yankees won't do today: Play a baseball game. (Their last day off came when Hurricane Irene caused the cancellation of a doubleheader in Baltimore on August 27 — and caused them to play on an off-day last week to make up one of the games.) But while the Yankees rest up in Toronto on their final scheduled off-day of the regular season — they'll play fourteen games in thirteen days to close out their schedule, beginning tomorrow night — the Red Sox and Rays begin a four-game series at Fenway.
As much as we'd enjoy watching this Red Sox team collapse and miss the playoffs, the Rays still have their work cut out for them: They trail Boston by four games in the Wild Card race with fourteen games remaining, and Baseball Prospectus gives Tampa Bay just a 1.6 percent chance of making the playoffs. (Boston also has the easier schedule.) But a couple wins to start that series would surely make Red Sox Nation sweat.
With Boston's loss, by the way, the Yankees' magic number to eliminate the Red Sox from the division race fell to eleven.