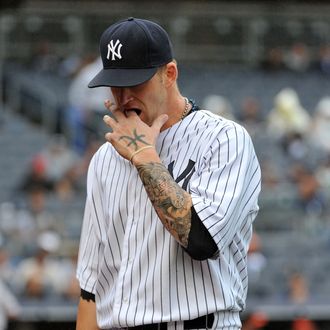 You're not yourself when you're sleepy. I'm pretty sure that's the slogan for some energy drink or possibly meth, but it's true. Common symptoms of sleep deprivation include impaired alertness, muscle weakness, blurred vision, and hallucinations, among other things that suck. It is advised that you not drive a car or operate heavy machinery on insufficient sleep. One would imagine that the same warning holds for an activity that includes wooden clubs, fast-moving solid projectiles, and sprinting. Oh, and that same activity also takes place in wet conditions in front of thousands of people. What we're getting at here is that the Yankees–Orioles game yesterday didn't go so well. Recall that a rain delay forced the two teams to start well after they intended on Tuesday night, which meant that the Yankees didn't get around to winning until 2:15 a.m. on Wednesday morning. Even if they raced home, many of the players probably didn't hit the pillow until dawn. So when, not many hours later, those same guys re-convened to play an early afternoon game of competitive baseball in unrelenting rain … yeah.
It took eleven innings for the Orioles to beat the Yankees 5–4. Along the way, there were boners aplenty. Pinstripe Alley has the full gaffe tally:
There was a dropped pop-up (scored a hit), six errors, four wild pitches, and generally poor defensive play with the constant rain throughout the afternoon. Even Brett Gardner misplayed a ball he would normally catch down the left-field line. 
Three of those wild pitches came from the hand of A.J. Burnett, who wasn't really the guy Yankees fans wanted to see under such circumstances. (Although, alternatively, it might have been the perfect opportunity to get his start out of the way). It was just that kind of game. New York briefly held a lead in the first inning, but the O's tied it soon thereafter on an error, then got a two-run homer from Nolan Reimold to widen the gap. Jesus Montero (looking good, young'un!) tied it back up in the fourth, then things stayed stagnantly sloppy until the extras, when a Mark Reynolds single was enough to bring a merciful end to the action.
The Yankees and Orioles are now in Baltimore, having trudged down there for a hurricane makeup at 1:05 p.m. today. The forecast calls for — surprise! — more rain, but at least everyone will be well rested. We hope.