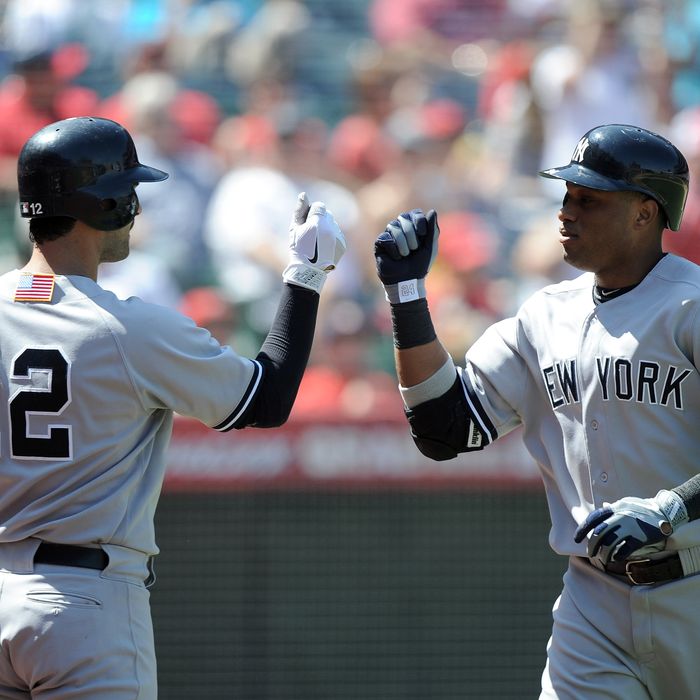 First, the bad news: The Yankees lost two of their three games in Anaheim this weekend. Until Sunday, they could barely manage a run, dropping 2–1 in the first contest, then getting blanked by Dan Haren on Saturday. Even last night, when the New York bats finally came alive (Robinson Cano and Curtis Granderson each homered), it was a fielding error by Peter Bourjos that earned the Yanks their lead. Meanwhile, Yankees continued to fall victim to injuries. New York began the weekend with Alex Rodriguez and Nick Swisher already out of the lineup. By Saturday, they'd lost both of their regular catchers, with Francisco Cervelli's concussion symptoms and Russell Martin's bruised thumb holding them both out of the latter two games. That left Jorge Posada to don the mask on Saturday and Jesus Montero and Austin Romine (!) to make their debuts behind the plate last night. Madness!
So, that's all the bad news. Are you ready for the good news? None of that really made a difference.
See, while the Yankees lost most of their games this weekend, the Red Sox went ahead and lost all of their games. The Boston bros got swept in Tampa Bay, which had the delightful dual effect of suppressing Boston's fight for first place (the Yankees actually gained a half game) and inviting the Rays into wild-card contention. So, just to clarify, New York now sits three-and-a-half games above Boston, who sits three-and-a-half games above Tampa. The Sox and Rays will continue to fight amongst themselves later this week, when they meet again for a series at Fenway. In the meantime, it would behoove the Yankees to get their collective poop together. It'll start with reassembling the lineup. According to the Record's Pete Caldera, Swisher, Martin, A-Rod, and Cervelli all hope to return this week, in that order. Between whatever momentum was accumulated last night and the restocking of personnel, one hopes that the Yankees can get back to winning, starting tonight in Seattle. They somehow got away with lollygagging this weekend, but they won't always have that luck.