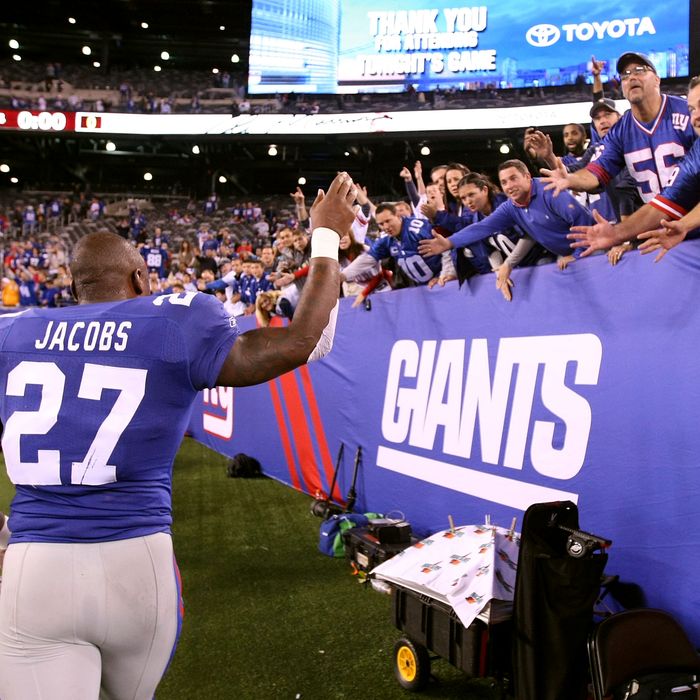 A win is a win, though there are undeniable shades of gray. Some wins generate confidence and instill a sense of momentum in players and fans alike. Others register on the scoreboard and in the standings, but fall short of inspiration. The Giants' Monday Night Football appearance tended toward the latter. The Rams' housewarming gift for MetLife Stadium was a basketful of fortunate mishaps offered mostly by reserve players. Tom Coughlin's crew, struggling to finish their own drives, happily accepted the gift and ran with it, spinning Ram mistakes into a first-half lead that would never be overtaken. 
It began with Eli Manning's first touchdown pass of the season, a dicey three-yard toss to Hakeem Nicks, which was preceded by a muffed punt and a fourth-down pass interference by those gracious Rams. That gave the Giants their first-quarter lead, but the Rams weren't done errin'. Early in the second quarter, Sam Bradford thought it was a good idea to throw a backward pass to Cadillac Williams, who felt obliged to drop it, then idle around the line of scrimmage while the Giants pounced and hurtled en masse to the opposite end zone. Linebacker Michael Boley's 65-yard return of the fumble was the game's crucial play, though if we remember the run years from now, it'll likely be for its double face-bonking epilogue. (Which deserves some applause. Single face-bonks are gems. Double face-bonks are gifts from the heavens to be cherished and recounted with whispering reverence to future generations. Credit the latter bonkee, the cameraman, with hardly flinching, too).
The game's most sensational drive came right before halftime, when Eli Manning, shaky all evening, followed a 31-yard sideline strike to Mario Manningham (an impressive play in its own right) with a nice, lofty parabola to Domenik Hixon. Hixon bobbled the initial reception, somehow relocated the errant ball, then tickled it back into his clutches inches from the ground. The Rams threatened at times, but some stout goal-line stands and a nine-yard Brandon Jacobs touchdown run were enough to keep them at arm's length and seal the victory.
So, it wasn't the most rousing of wins. One wonders if last night's Giants would have fallen to 0–2 against a better, less accident-prone team or, hell, even the Rams at full staffing. Ultimately, though, all parties (except for Ram parties) will happily accept the 1–1 record, no matter the means. New York now looks ahead to next week's showdown with the Eagles, who may or may not start Michael Vick. The Giants will have question marks of their own, too, as Hakeem Nicks's healthy return was overshadowed by two more receivers pulling up lame and/or concussed. Less than ideal.
But hey, a win is a win!