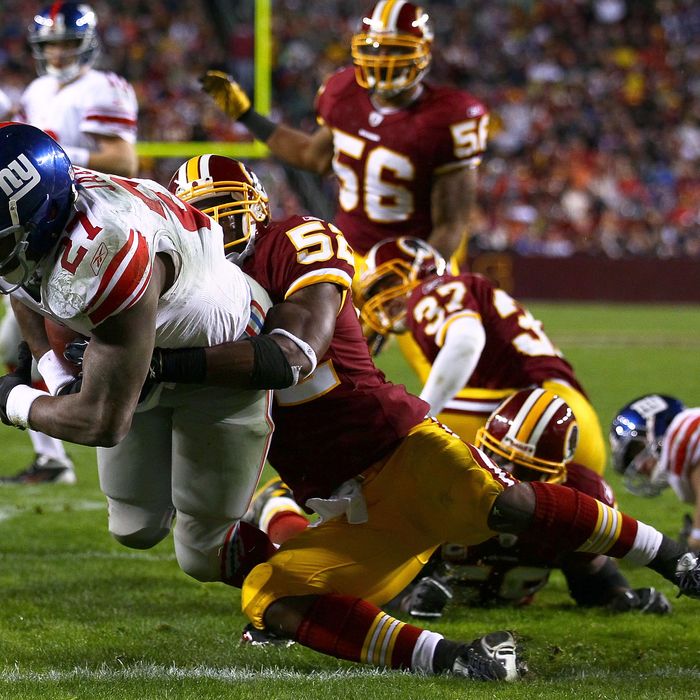 Brandon Jacobs, against the Redskins last season.
It only feels appropriate to begin a preview of the Giants' first game of the season with an update on the health of a member of the team's defense: Justin Tuck practiced with the team today, and reportedly appeared healthy enough to play this Sunday. Officially, his status for the opener at Washington is still unknown, but though Giants fans may be unfamiliar with the concept, this is something called "good news on the injury front."
That said, the Giants have plenty of other injured players on defense, ranging from ones who are expected to return at some point (Osi Umenyiora, Prince Amukamara) to ones who will miss the entire season (Terrell Thomas and Jonathan Goff, to name but two). But none of those players will be on the field on Sunday. And even defensive coordinator Perry Fewell admits that all these injuries mean a weakened defense: "I'm not naive enough to know if I had all those guys we think we can really, really, really, really be a great defense," adding, "I still think we can be a really good defense, though." We're confident that the Giants defense is not "really, really, really, really great." We'd sign up for "really good" in a heartbeat. And we'd settle for "acceptably good."

All things considered, the banged-up Giants could have wound up with a worse opponent in Week 1. They've owned the Redskins in recent years, particularly at FedEx Field. And though starting quarterback Rex Grossman competently led the Redskins' offense in the preseason, let's not forget that he's thrown as many interceptions in his career (40) as he's thrown touchdowns.
Speaking of interceptions: Eli Manning threw far too many of them last year, and cutting down on turnovers will be a key for the Giants' offense this season. Yes, the Giants lost Steve Smith and Kevin Boss on the offseason, but Eli Manning still has capable receivers to throw to (if not the same depth as last year), and the Giants should still have a strong running game. (Last year, the Giants ranked second in the conference in rushing yards per game, and that's factoring in a slow start for Jacobs.) Worth noting: With Albert Haynesworth gone, the Redskins expect to be a little less dysfunctional this season, and Barry Cofield seems to be fitting in nicely.
This is the third time in four years the Giants and Redskins have faced each other in Week 1. The Giants won the other two, and in fact have won their last six season-opening games against Washington. The Giants are favored to win this game, as well, and for a team that's suffered such a rough couple of months, an opening-week win would calm down a fan base that's had plenty of reasons to worry about this season since the lockout ended. A win doesn't necessarily mean they're in the clear, just like a loss doesn't mean the season's over. But Giants fans have waited a long time for something positive to happen. It might as well happen once the games start mattering.