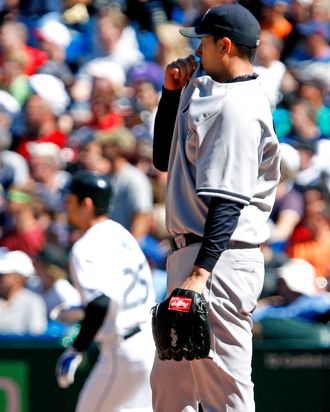 The Yankees had another mild weekend, ending their road trip by dropping two of three to the Blue Jays up in Toronto. On Saturday, Mariano Rivera tied Trevor Hoffman's record with his 601st save, but was denied an opportunity to break it as the Yanks got blanked last night. And that 3–0 shutout was probably to be expected. Joe Girardi opted to rest Derek Jeter, Mark Teixeira, and Curtis Granderson, leaving a motley batch of bats to compensate for whatever Freddy Garcia had conceded. Two Adam Lind homers and an Eric Thames sac fly were, unfortunately, more than the Yankees could overcome. They return to New York with four wins and six losses in their wake. Not a very good road trip, but enough to keep the Yankees afloat while the Red Sox and Rays grapple below the surface. (None of this is a metaphor. The Wild Card race, while punctuated by baseball games, consists mainly of a prolonged deep-sea death match.)
The Rays continued to make moves this weekend, taking another two of three in Boston. Tampa's happy coincidence of scheduling and fortitude allowed them to gain an impressive amount of ground in no time at all. They faced the Sox seven times in ten days and went 6–1 in the process. The Yankees couldn't be more appreciative, as the downward tugging keeps the Sox submerged well below New York's division lead (4.5 games now) and forcibly enmeshed in the Wild Card torpedoing.
Henceforth, the Yankees will have a direct say in that battle. Therein, one would hope, lies the payoff of all the dawdling that's taken place. After tonight's makeup with the Twins, New York finishes the regular season with ten games in nine days, all against the two teams below them. Seven of those divisional matchups are with Tampa, and we've seen how much ground the Rays can gain in seven games (eerie, isn't it?). With a relatively full, well-rested lineup, the Yankees' task now is to fortify, keep Tampa and Boston at arm's length and fighting amongst themselves, and build some momentum for the postseason. Get to it!